ONIK Preview: Week 3
The third wing of One Night in Karazhan is opening soon, and it's time to go over the cards that will be released. How impactful will they be?  Our Data Reaper contributors chime in.
The scoring is as follows:
5- Staple core card, Meta-defining.
4- Strong, will see play.
3- Decent, has potential to see play.
2- Weak, situational, niche.
1- Terrible, unplayable.
Below is a spreadsheet that summarizes all of our contributors' scores.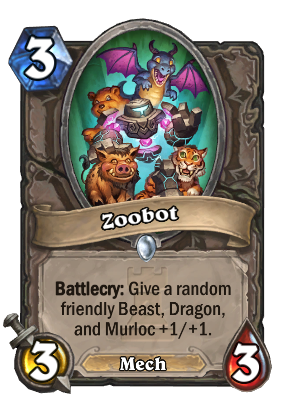 Zoobot
Gallon: 3
"This is comparable to a pre-nerf Shattered Sun Cleric in dedicated tribal decks.  That isn't bad!  I am not sure if pre-nerf Cleric is still incredible due to several years' worth of power creep, but I think this card is worth testing out, especially if you make a viable list utilizing more than one tribe."
HC015: 2
"Doesn't really fit any deck at the moment and the effect isn't powerful enough to build a deck around. However, it does have one of the cutest artworks in the set and might be in the top 5 cutest artwork behind Murloc Tinyfin of course."
HotMeowth: 2
"Shattered Sun Cleric with RNG."
Fenom: 2
"This card is sort of like fun insurance for new players with random and non-synergistic decks, but such decks probably won't be competitive despite this card."
Wwlos: 3
"Hitting just one minion with this provides enough value to consider this a strong enough card for play. I just don't know what deck this card is run in yet, but the card is good."
EndOfDays: 3
"Quite a good card. If you have one tribal minion on the board it's a 3 mana 4/4. The question is, is that good enough? The problem with the card is that it promotes aggressive strategies, but combining tribes in an aggressive deck makes it less efficient. The one archetype I can see this minion being used in is Beast Druid, but every slot in that deck is going to be very competitive, and there might be better standalone 3-drops for it."
Average Score: 2.5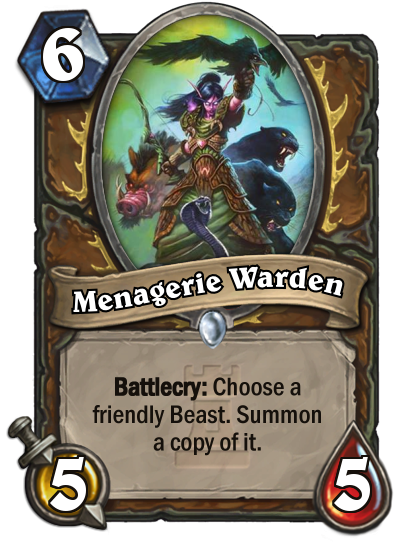 Menagerie Warden
Gallon: 4
"Best case scenario of Druid of the Claw/Tiger into Menagerie Warden is backbreaking.  Still decent if it hits a marked low cost minion or Raptor.  Most likely a curve topper for Beast Druid"
HC015: 4
"Strong card with an obviously powerful effect. Might actually be too slow for some Beast Druid lists so it fits in more of a midrange style. This card curves very well in Beast Druid with cards like Druid of the Claw and Tiger on 5 mana, and be used on turn 4 innervate after playing a 3 drop like Druid of the Flame or Mounted Raptor. Very likely 10/10 worth of stats for 6 mana."
HotMeowth: 5
"This is a really strong card in Beast Druid and maybe even in Token or Ramp Druid. This card alone might be strong enough to push midrange Beast Druid to a tier 1 archetype along with Token Druid. Although it seems like a slower, win more card; with cards like Innervate and Druid of the Claw, it just seems insanely good. The card itself isn't a bad body for 6 mana and it creates a lot of value with a beast on board."
Fenom: 5
"This furthers the Beast Druid theme, and does a different job than that of Enchanted Raven. This keeps the gas going in mid-to-late game. There isn't a 6-drop that fits the Beast Druid theme, so this card is perfect in that slot."
Wwlos: 5
"A huge value/tempo play that'll probably push a mid-range variant of Beast Druid heavily into the spotlight. The obvious synergy is with cards at the five spot like Druid of the Claw and SMOrc Kitty, but paired with just about any beast you'll be getting crazy tempo and value."
EndOfDays: 5
"This card is simply broken. Druid of the Claw and Stranglethorn Tiger are two 5-drops played in Beast Druid that are terrifying with this minion, and the combination with the latter is almost impossible to counter. Get ready for another degenerate mid-range deck to dominate ladder play."
Average score: 4.6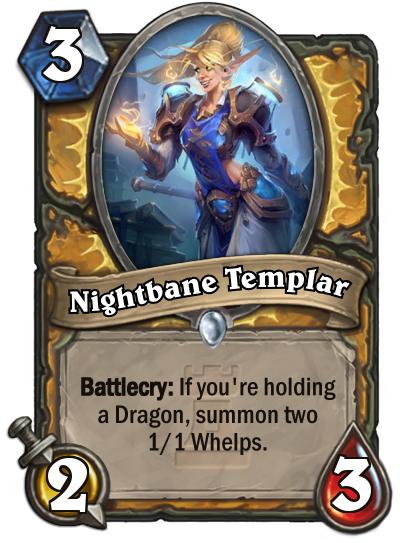 Nightbane Templar
Gallon: 2
"This card is a better Razorfen Hunter.  Razorfen Hunter is bad, however, and considering this card needs an activator, it is solidly mediocre."
HC015: 3
"3 bodies on turn 3 is tough for some classes to deal with. This card helps with Dragon Paladin's early game but it most likely won't be enough to make it viable."
HotMeowth: 1
"Razorfen Hunter power creep for Dragon Pally."
Fenom: 3
"This provides Dragon Paladin a turn 3 option in addition to Blackwing Technician. This may make Mid-Range Dragon Paladin viable."
Wwlos: 3
"Is this card better than Blackwing Technician? Can we run this, Blackwing Technician, and Aldor Peacekeeper? If the stats on this card distribute well with what you are playing against in the Meta, then I think this card can be really good. 3 spot is really crowded, but overall this card is strong, just might not always fit. It would have been bonkers in Priest though."
EndOfDays: 3
"At first I thought this card was just bad. A Razorfen Hunter with an extra token on the best case scenario? However, tokens are quite good in Paladin, especially if you spawn them on turn 3, which makes Keeper of Uldaman a great on curve play at 4. Whether this card is good enough to push Dragon Paladin though, I'm unsure."
Average Score: 2.5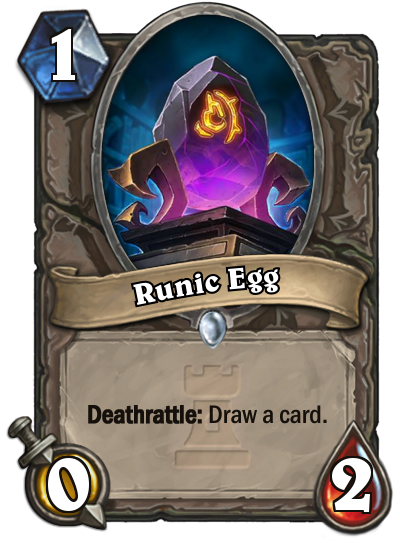 Runic Egg
Gallon: 1
"This card would be playable if it was a 0/1.  Unfortunately, since you can't ping it off, this card is just trash in comparison to Loot Hoarder and Thalnos."
HC015: 2
"In Wild, I can make an omelette deck! Annoying card to proc for cycle, but probably won't be that strong."
HotMeowth: 1
"Lower cost than Loot Hoarder to draw a card, it must be good right? Only problem is that your opponent will never kill/trigger it unless you buff it or if they play an AOE spell. It might be alright in Secret/Aggro Paladin and Zoo, but there are better options."
Fenom: 1
"This is a bad card for combo decks because it can't cycle itself without help, and it's a bad card for Aggro decks because it doesn't leave behind another minion immediately upon death."
Wwlos: 2
"So plain and boring. It might be alright, but I can't stand Blizzard's vanilla design so this gets a 2. It's also probably just not good."
EndOfDays: 2
"Cheap card draw is generally strong, but you need to buff it, so that makes it really awkward to use, unlike other minions that draw cards on demand"
Average Score: 1.5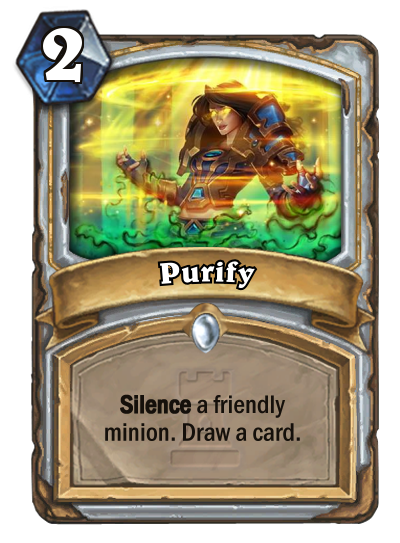 Purify
Gallon: 1
"This card is actually the worst card printed in quite a while, maybe ever. Silence is 0 mana, has any number of targets, and still doesn't see play. This card is actually worse than Silence and costs 2 more mana. I cannot fathom how Blizzard thought this card was ok to print."
HC015: 1
"LUL"
HotMeowth: 1
"If you think Power Word Shield wasn't strong enough in your Watcher Priest, you can spend 1 more mana to not only draw a card but Purify (silence) your own minions that cannot attack. It synergizes with Ancient Watcher and Eerie Statue. The best thing about it is that it purifies corruption. But really, this card just sucks"
Fenom: 2
"The dream would be coining out Ancient Watcher on turn 1 and then purifying it on turn 2, but such gimmick probably won't be competitive. The other application is silencing the 1/1 that Barnes summons, if it's just a vanilla minion. But for this to see any play you have to ask yourself, do you ever really wish to play Silence if it only cycles itself? If the answer is no, then you'll probably never play this card."
Wwlos: 1
"00000000000000000000000000000000000000"
EndOfDays: 1
"Bad cards are temporary, but memes are eternal."
Average Score: 1.2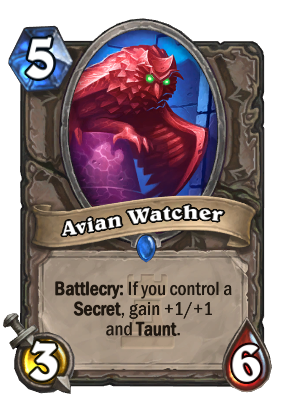 Avian Watcher
Gallon: 3
"5 mana 4/7 taunt is ridiculous! The fact that it needs an activator?  Not so much.  The problem with secrets is that you want them to proc. What that means is good secrets besides ice block don't really synergize well with this card if you want its effect to activate. I definitely would consider this in Reno Mage, but it's a hard sell in Tempo or Freeze.  In Paladin, you most likely would rather have challenger on 6 than Secret + Watcher.  However, a list running many more secrets than we currently see in Jambre's Secret Paladin definitely would like this card."
HC015: 2
"4/7 taunt is pretty good but hard to activate. In Hunter the card competes with a lot of good 5 drops. In Paladin, their secrets are usually proc'd pretty easily. In Mage, it doesn't really fit any current archetype, other than Reno Mage"
HotMeowth: 1
"Fen Creeper without a secret, taunted Twilight Drake with a secret. There are just better options on 5 for any class that runs secrets than playing a heavy taunt."
Fenom: 3
"With this and some of the Mage and Hunter cards, Blizzard seems to be trying to restore secret viability in the absence of Mad Scientist. This can make Freeze Mage great again, replacing the void left by Antique Healbot."
Wwlos: 3
"It's a strong enough actual card so it scores a 3, but it'll never really fit into the decks that run a lot of secrets outside of maybe Reno Mage."
EndOfDays: 1
"Secrets are bad unless you have a really good reason for playing them, and then you need an even better reason to play this card with them. I don't see it."
Average Score: 2.3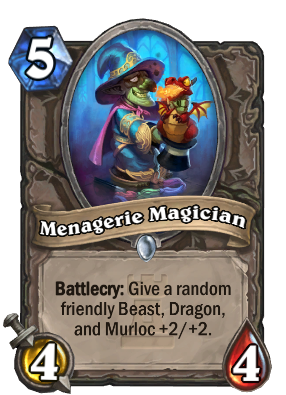 Menagerie Magician
Gallon: 1
"This card is much worse than Zoobot.  Too expensive and the effect is comparable to Houndmaster."
HC015: 1
"Bad stats at 5 mana with a situational battlecry."
HotMeowth: 1
"Bad"
Fenom: 2
"This is Zooerbot. Its viability is no different from that of Zoobot."
Wwlos: 4
"Isn't this the card that makes actual Curator decks a thing? We have the potential to pass our 6/6 of stats on top of our 4/4 body? Isn't that insane? Obviously that'll barely ever happen, but just hitting it once makes this card valuable enough at 5 mana, and the upside is there. This is a card I fully acknowledge I'm probably just wrong about, but cards like this seem to sneak up on people."
EndOfDays: 1
"Will be too clunky in Beast Druid's curve, and just generally too slow."
Average Score: 1.7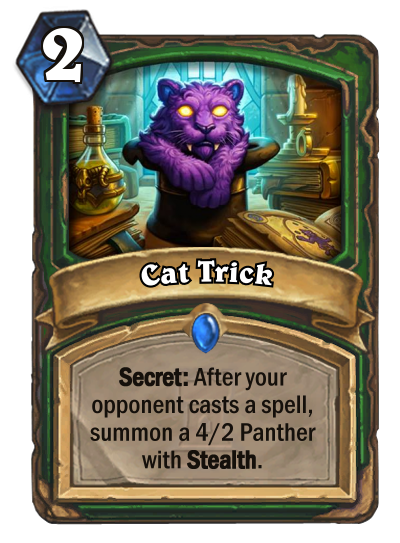 Cat Trick
Gallon: 5
"Cat Trick is way, way, way better than Bear Trap, an already decent card.  Easy activation and the fact that the minion is untargetable is ridiculous. Incredibly good with Cloaked Huntress. Trades with Golem which is so important for Hunter to compete with Aggro Shaman.  Doesn't proc until after a board clear finishes."
HC015: 4
"4/2 Stealth Beast by itself is worth 3 mana at least. Card activates after AoE based off wording which makes it even better. Gallon loves this card."
HotMeowth: 3
"At first glance this card seems to be a promising secret that triggers a solid body worth 3 mana like Bear Trap, the problem with this card is that it can be played around easily if your opponent knows your decklist. Might play around AOE but does not impact the board as much as compared to other secrets like Freezing or Explosive Trap."
Fenom: 4
"This secret completes the entire suite of Hunter traps. There have been traps for attacking hero, attacking minions, and even using hero power. Now there's a trap for using a spell. You can't possibly play around every single Hunter secret anymore. Everyone wants to play spells, and this is just a good counter to them."
Wwlos: 2
"Hunter secrets are a lot better now that Cloaked Huntress exists, but this card seems underwhelming. It'll be really hard to fit this card into your deck considering the strength of some of the other Hunter secrets. Sort of easy to play around, this card seems like it won't make a splash. "
EndOfDays: 3
"This is a decent secret, one I feel is better for aggressive variants of Hunters than slower ones. Can be good against control decks."
Average score: 3.5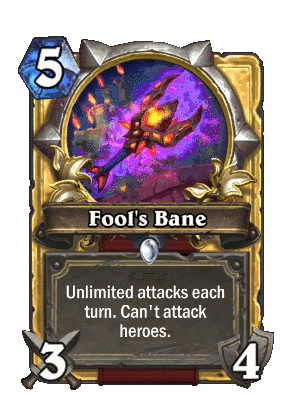 Fool's Bane
Gallon: 4
"Following the trend of absolutely overpowered weapons, Fool's Bane is quite good.  Although it loses to Gorehowl in the long run against control decks, this weapon is dominating against Aggro. C'Thun and Control Warrior can definitely slot this in.  Probably not good in Dragon Warrior but is still incredible off Malkorok. Also worth considering, in the Control mirror, Fool's Bane's high durability makes it a terrible target for Harrison Jones.  Could this be a contender to Gorehowl, even against control decks?"
HC015: 3
HotMeowth: 2
"Warrior has too many good cards to be played already, this is a decent card, but you would rather play brawl if your opponent floods the board. This might be alright as a 1 of in Tempo Warrior if the Meta shifts to being mid-range centric or if patron dominates the Meta again. The biggest problem with this card is that Fiery War Axe does a better job and you still take a lot of damage if you get to trade into a lot of minions."
Fenom: 3
"This is a nice alternative to Brawl or Gorehowl in a Control Warrior's toolbox."
Wwlos: 3
"This card seems weaker to me as time goes on. We already beat Zoo without it. I'm just not sure what we cut for it. Still nice overall values though, wish Priest had it."
EndOfDays: 4
"This is a strong option for Warriors to shut down aggro decks in the mid-game and win an incredible amount of tempo. You can look at it as the anti-aggro version of Gorehowl, which is a very slow card in some matchups like Zoo and Aggro Shaman. This weapon definitely has a place in Control Warrior archetypes that can afford to spend life as a resource in large amounts in order to increase their consistency against these decks."
Average Score: 3.2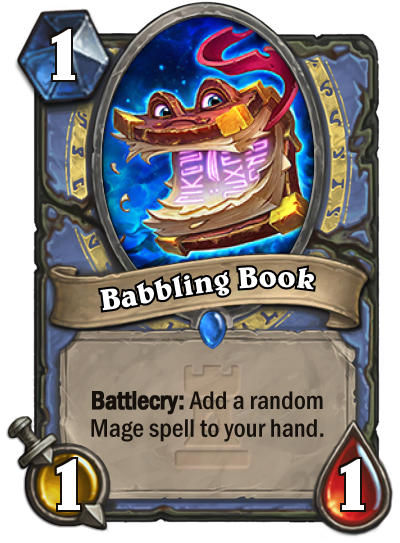 Babbling Book
Gallon: 1
"Bad bad bad bad bad. Mana Wyrm is miles better and Mage doesn't need inconsistent spells. Only contests Loot Hoarder and Fiery Bat which is not relevant considering Mana Wyrm does the exact same thing."
HC015: 1
"Too random, even though there are lot of good Mage spells, a lot of them don't do anything (Shatter for example) and might as well just put a spell you would play anyways"
HotMeowth: 1
"1 mana 1/1, add a random spell isn't really good, the body is weak, and the spell is inconsistent. It doesn't look bad, but it is too weak and inconsistent when compared to other early game Mage cards."
Fenom: 3
"While some classes would welcome a 1/1 body for 1 mana with open arms if it gives you another card back, Mage is not one of them, because it already has one of the best 1-drops in Mana Wyrm, so this card can at best only fills a spare slot. But in general, it's a decent card."
Wwlos: 5
"Underwhelmed at first, I've realized that this card is probably one of the stars of the set. When can you say that you can run a 1 Mana minion that is an actual decent draw in the late game? While maybe not always decent, we don't know what spell we are getting, it is probably still one of, if not the best, 1 mana minion in the game to draw on or after turn 10. This is such an impactful card just for that reason. It is simply too valuable a card to not be in a deck."
EndOfDays: 4
"Tempo Mage's greatest weakness is its consistency, which is a result of its reliance on playing Mana Wyrm on turn 1, so this minion can help the archetype more than people think. Mage spells are mostly very good cards, some of them being early removal tools that help fight for the board. This is also a 1-drop that's not awful in the late game as well as being a no-brainer in Reno decks. Gonna call it, this card is a sleeper."
Average Score: 2.5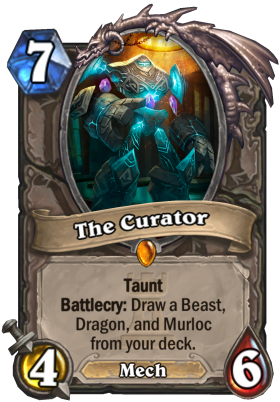 The Curator
Gallon: 5
"Another contender for Maylgos decks, Curator can pull the notorious game-ending dragon while also grabbing you a Coldlight Oracle. I am not a fan of corrupted seer or azure drake off of this card because they are likely too clunky if you are already running a 7 mana 4/6 taunt, and there are much more broken combos you can take, such as the one I previously mentioned."
HC015: 4
"At first glance, it seems weird that a deck would run 3 different tribes but if wording was 7 mana 4/6 taunt that drew 2 or 3 cards, everyone would think it was insane. Having guaranteed draw of some cards could make combo archetypes more consistent. Could see play in Druid and Paladin"
HotMeowth: 5
"Ancient of Lore is back."
Fenom: 5
"Of the triple-tribe synergy cards, this is the best. The other two are buff cards, which means they're best in aggressive decks with board presence all the time, but an aggressive deck need very tight synergy with the tribe it uses, so using more than one tribe is not good. A draw card is good in a control deck, and a control doesn't need tight synergy with a tribe, just utility cards to survive. You can probably find room for at least two of these tribes in a control deck, especially a Reno deck. Stampeding Kodo immediately comes to mind. Corrupted Seer is a possibility. Any of the big dragons can be useful for a slow deck. Even midrange decks can use this, since Azure Drake is good in any of them"
Wwlos: 5
"Card is probably on or very close to Barnes' level. Stats and taunt on top of potential to draw 3 cards, always draw at least 1 or 2, make this one of the more valuable standalone cards we have."
EndOfDays: 5
"This card is incredibly powerful. Compare it to Ancient of Lore before the nerf and you can understand why it is so good. The body is better, and you can draw up to three cards with it. The only problem is, how do you fit all these tribes? In mid-range decks like Dragon Warrior (Monkeys, Finley) and Beast Druid (Drakes, Finley), it's quite easy. This is also a potentially great card for Reno decks, especially Paladin and Mage. One of the biggest problems for non-Warlock Reno decks is card draw, and this helps solve the issue. The ability to also target the draw to something specific in your deck gives it the potential to be even more powerful than just normal card draw. Definitely one of my favorite cards in the set that should appear in many different decks."
Average Score: 4.8
Contributors
This article was brought to you by the following members of the Data Reaper Team: