Welcome to the 28th edition of the Data Reaper Report! This week's report is a shortened one with only statistics. The Data Reaper will now take a break until about a couple of weeks after the expansion's release, though you will likely be able to track the Meta on our live sheet earlier. As we've said last week, all data and archetype recognition will be reset once the expansion goes live. Stay tuned for other kinds of content we will be releasing during this period.
For your convenience, this report has been translated into the following languages: русский, 中文, and 한국어.
Number of Games
| | |
| --- | --- |
| Overall | 61,500 |
| Ranks Legend-10 | 13,500 |
| Ranks 11-15 | 41,500 |
Class/Archetype Distribution
Class Frequency by Week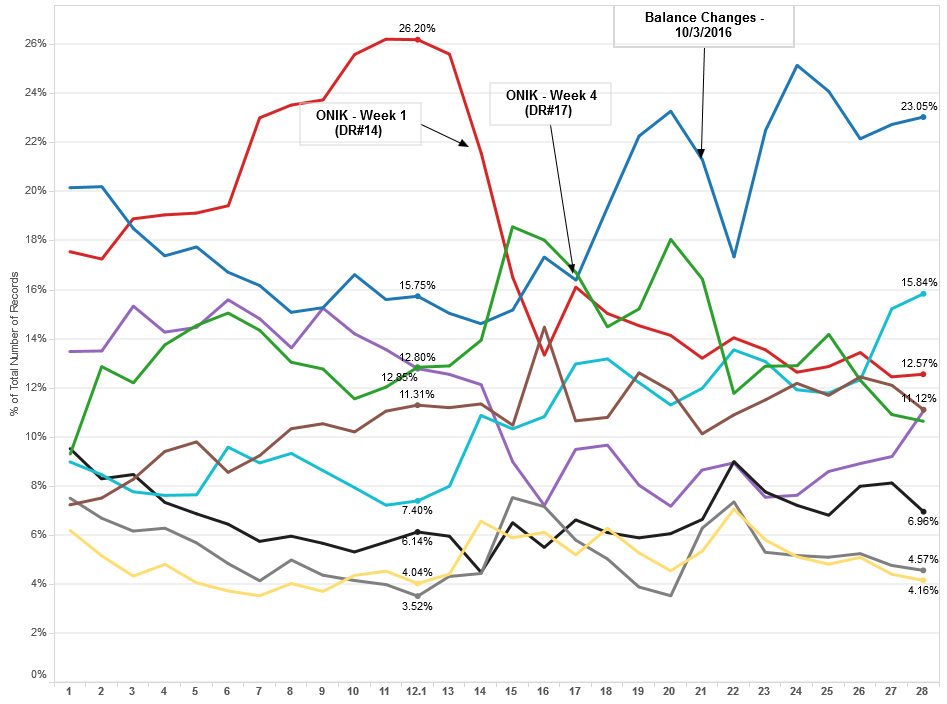 While not much has changed, the most notable trend we can observe is the rise of Warlock. This is actually on the back of Reno Warlock becoming more popular, rather than Zoo. While the deck has many struggles in the current Meta (Hunter, Mage and Druid), its matchup with Midrange Shaman is even while being favored against slow Warrior decks, so there is some merit to the increase in its popularity.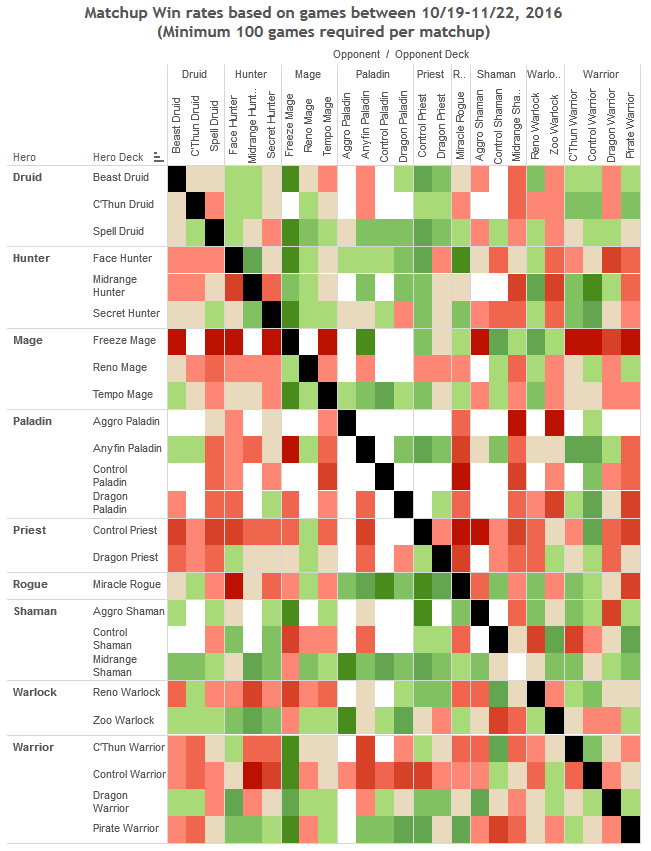 The numbers we report are the expected win rates of each archetype based on their matchups against the field, factoring in the frequency of all potential opponents on ladder at different rank groups over the past week.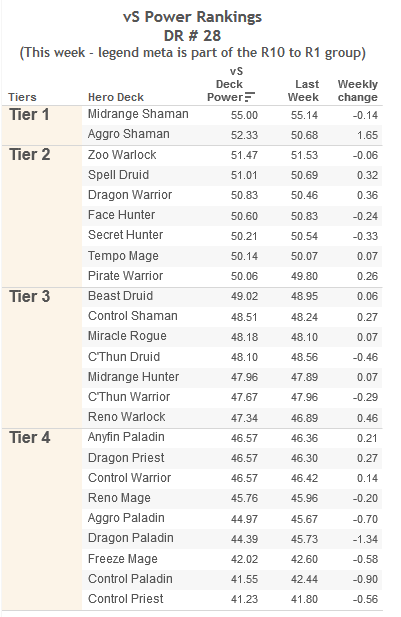 The story of the week goes to Aggro Shaman. This archetype has blown us away and has seen a crazy surge in its performance against the field over the past week. While Aggro Shaman is mostly overshadowed by its 55%-win-rate Midrange cousin, and is not seeing much play (Sitting at 1%), it is doing extremely well in the current Meta. This is despite the fact it doesn't match up very well against Midrange Shaman; Aggro Shaman simply destroys nearly everything else. It's definitely a strong choice for ladder, and an interesting choice in tournaments, since it beats up on some decks that look to counter Midrange Shaman, such as Freeze Mage.
The balance changes simply forced the archetype to look for alternative builds, and once they were found, Aggro Shaman found its way back to Tier 1. The combination of burst damage through Doomhammer/Rockbiter/Lava Burst and such an incredibly powerful early game remains a design issue going forward. It's simply being hidden by an even stronger form of oppression exhibited by Mid Shaman.

Our Data Reaper Project, including the Data Reaper Live (Beta) has over 2,800 contributors. Without them, this project would not be possible, so we'd like to thank all of our contributors for their help.

Preparing our weekly article requires a significant amount of time and effort from many individuals. We would like to wholeheartedly thank our current Patreons, whose generous donations help us fund computing and server costs.

Tier 3 Patrons
Special thanks to Leo G., Hitokage, and Chung R. for supporting us for the month of November.
Contributors
Here are all the people that participated in bringing you this edition of the vS Data Reaper Report: