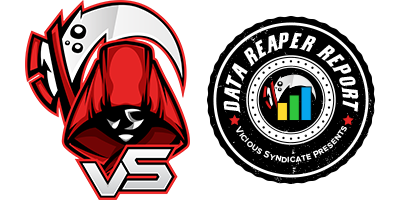 Frequent readers of the Data Reaper Report should know by now that an archetype's strength in the meta is determined by two key factors: Win Rate and Prevalence. Neither of them is enough to evaluate how good a deck is.
Powerful decks will tend to be more popular. However, prevalence is often influenced by the perceived power of decks rather than their actual power, and sometimes there is a contradiction between them. Prevalence can also be determined by other factors that are not necessarily competitive (e.g., fun, cost of decks, speed of play). In addition, prevalence is not a good predictor of meta trends, but will usually be their end product.
A deck's win rate is the most objective measure of its strength in the context of a meta and will often tell us whether it is likely to rise or decline in play. Powerful decks will tend to have higher win rates. However, win rate is also influenced by a deck's popularity. As a deck gets more popular, it becomes the target for other strategies to beat. This meta-countering effect will tend to dampen a deck's win rate. On the other hand, less popular decks tend to take advantage of a lack of hostility towards them, and sport a higher win rate than they would in "equilibrium." Therefore, it is difficult to objectively compare two decks with a significant difference in prevalence and say which is "better".
This is where the vS Meta Score comes in. It is a supplementary metric that measures each archetype's relative standing in the meta, based on both win rate and prevalence, and in comparison to the theoretical "best deck".
How is vS Meta Score calculated?
We take the highest win rate recorded by a current archetype in a specific rank group, and set it to a fixed value of 100. We then determine the fixed value of 0 by deducting the highest win rate from 100%. For example, if the highest win rate recorded is 53%, a win rate of 47% will be set as the fixed value of 0. This is a deck's Power Score. The range of 47% – 53%, whose power score ranges from 0 to 100, will contain "viable" decks. The length of this range will vary depending on the current state of the meta. Needless to say, it is possible for a deck to have a negative power score, but it can never have a power score that exceeds 100.
We take the highest frequency recorded by a current archetype in a specific rank group, and set it to a fixed value of 100. The fixed value of 0 will then always be 0% popularity. This is a deck's Frequency Score. A deck's frequency score cannot be a negative number.
We calculate the simple average of a deck's Power Score and Frequency Score to find its vS Meta Score. The vS Meta Score is a deck's relative distance to the hypothetical strongest deck in the game. Think of Power Score and Frequency Score as the coordinates (x, y) of a deck within a Scatter Plot. The Meta Score represents its relative placement in the plane between the fixed values of (0, 0) and (100,100).
If a deck records both the highest popularity and the highest win rate, its Meta Score will be 100. It will be, undoubtedly, the best deck in the game.
Example of a vS Meta Score plane in the first week of the K&C meta, at legend ranks (preliminary results):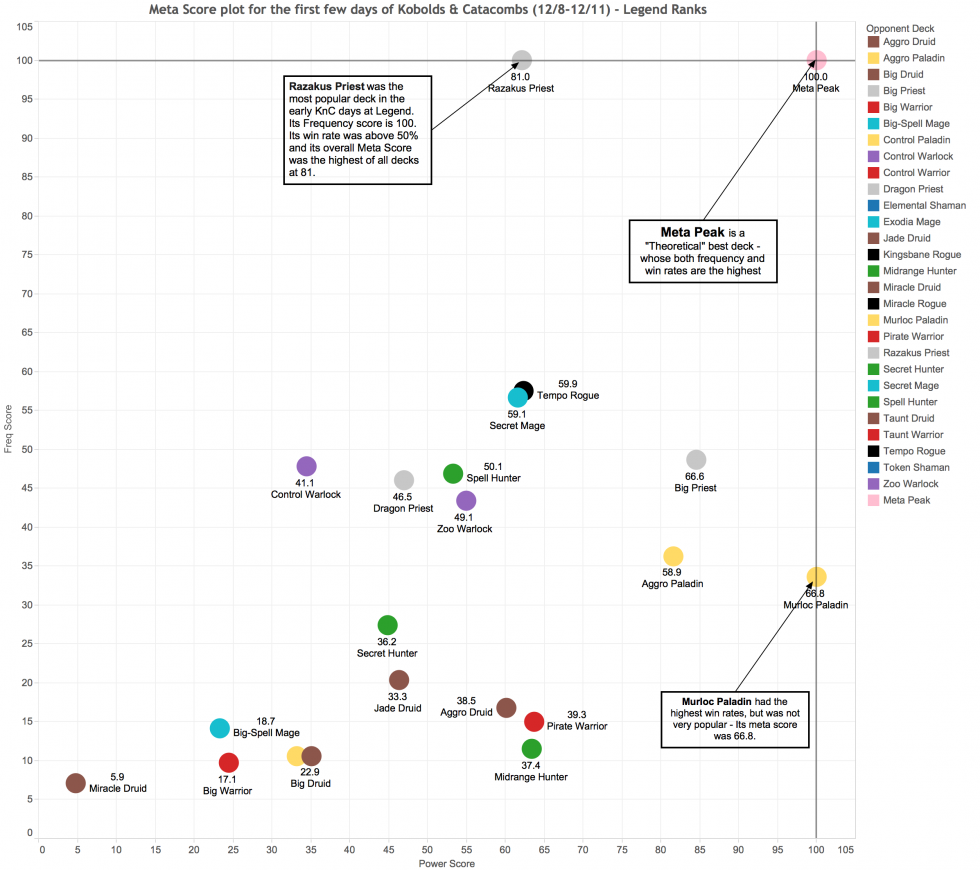 How does the vS Meta Score help us evaluate decks and the meta?
The vS Meta Score allows us to rank decks along the two dimensions that determine their influence on the meta, and display these decks in one chart.
This makes deck trends more visually appealing and easier for the reader, against the alternative of flipping between power rankings and frequency charts. By looking at the vS Meta Score plot, we can immediately understand the characteristics of a specific deck. For example, a deck carrying a relatively low power score and a high frequency score is likely to be targeted by the field.
The vS Meta Score plot also allows us to evaluate the health of the meta. The presence of an oppressive deck will push all other archetypes towards (0,0), while a balanced meta will push multiple archetypes towards (100,100). How decks scatter within the plot tells us a lot about the state of the game.
There are many more opportunities for the vS Meta Score to help us understand trends, which we will be discussing in future Data Reaper reports. We hope that this metric will help the community assess the meta more comprehensively, supplementing the vS Power Rankings.
See you in the coming report this week!
The Vicious Syndicate Team