Pounce
Decent early game removal that also synergizes with Gibberling. Slower Druid decks could also use it to tech against aggressive decks. We're not sure it always makes the cut but it's a fine option to have.
Score: 2
Enchanted Raven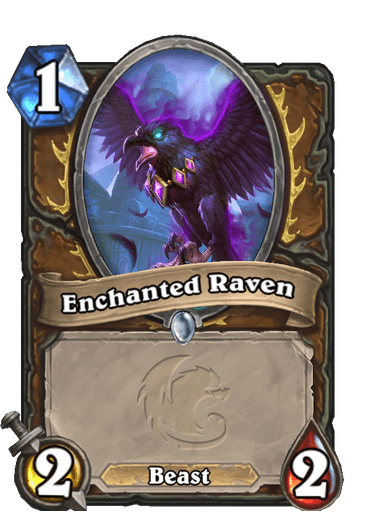 The original 1 mana 2/2 is back, just as Blazing Battlemage is rotating. We don't think this is good enough for Token Druid decks unless beast synergies are heavily pushed to the point the tribal tag here is relevant.
Score: 2
Power of the Wild
Nearly automatically included in every Token Druid deck and going to be particularly important now that Savage Roar is gone, though we're a bit worried about Token Druid's chances of success as a result. Unplayable outside of this archetype.
Score: 3
Feral Rage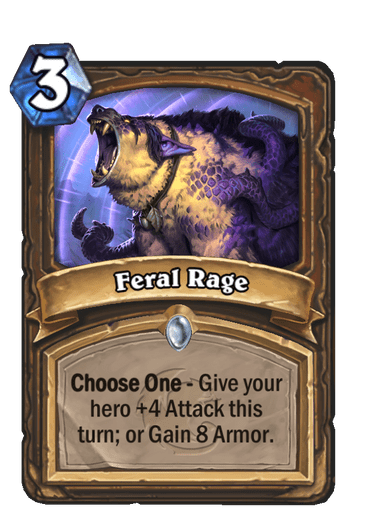 Serviceable card, though Moontouched Amulet will usually be superior. There is a world in which we could play both and embrace the tanking Druid. The class doesn't have too much life gain available to it post-rotation.
Score: 2
Landscaping
A card that's meant to be played in Treant Druid, but likely isn't good enough if the deck becomes a strong enough, constructed-worthy deck. Faster, aggressive variants such as Gibberling Druid would never consider it either.
Score: 1
Wild Growth
This card always seems to find a way to see play even after being nerfed a couple of years ago. Will occasionally get pushed out when better ramp is available but has proven to be a solid partner alongside Overgrowth. Unless we get a new Breath of Dreams type of card, Wild Growth is our best option.
Score: 3
Soul of the Forest
Another decent role player in Token Druid decks, but not unconditionally strong. Can get a bit meta-dependent and tends to be overrated by players.
Score: 2
Druid of the Claw
Good introduction of the Choose One mechanic to new players, but never a constructed card since we're not in 2014 anymore (unless you go there by playing Classic format). The buffed taunt form is okay, but the new rush form is very sad.
Score: 1
Menagerie Warden
Even after its buff, we just can't see this card being very successful in constructed. It's too conditional on us being ahead for it to be good and quite useless if we've fallen behind. We don't believe in Beast Druid.
Score: 1
Innervate
Druid really likes its mana, and this card always seems to find its way into decks as a result. Considering its usefulness in almost any kind of Druid deck, we just can't give it anything less than the maximum score. The current version of Innervate, as well as Lightning Bloom, just show how ridiculous the original Innervate was.
Score: 4
Mark of the Wild
This is a very significant buff to a card that almost never saw play after 2014. The extra health makes Mark of the Wild a buff that doesn't pay a stat penalty, and extra health is very good when it's paired with taunt. Might sneak into faster Druid decks since it can mount some serious pressure in the early game.
Score: 3
Nordrassil Druid
This card is here to tell you that Druid likes to cheat mana, so it offers a basic way to do it in the core set. Requires you to play expensive spells off curve, which is something that we really don't want to do. A very bad version of Anubisath Defender.
Score: 1
Nourish
The nerfed Nourish is a sad card that was only played in Quest Druid because it didn't have to choose between its underwhelming ramping option and its hilariously inefficient card draw option. Should pretty much never see play otherwise.
Score: 1
Force of Nature
The glory days when trees had charge are long gone, and now Force of Nature sees its previous best friend rotate to Wild. Much like Landscaping, this card is strictly a role player for Treant Druid decks and it's not a very good one. Its best interaction in recent times was with Aeroponics, a card that's also rotating.
Score: 1
Ancient of War
If you've never uprooted before, you've never truly lived.
Score: 1
Cenarius
There were points in Hearthstone's history where Cenarius was played, with the most notable example being Quest Druid. But even its buff to 8 mana doesn't give us confidence that it will be a solid choice. As a board buff, it's normally too slow and the summon option is weak as well. If Token Druid decks must play this, it should mean they're in trouble.
Score: 1
Final Thoughts
Core Set Rank: 8th
Druid's core set is a little underwhelming while its losses were significant. Savage Roar, Swipe, and Moonfire were major components of the class's ability to finish games in many historical archetypes, and it will now need to rely on expansion cards such as Arbor Up to appear. Many of the cards in the core set fit an archetype, but we don't think they're even that good for their respective archetypes, while the number of dead cards is relatively high. Keeping Innervate and Wild Growth is nice, and we suspect that the buffed Mark of the Wild could make some noise, but there's not much else.