Mutate
Evolve on a single target for 0 mana. 0 mana cards with this kind of impact should see play, since you're able to play a high value battlecry minion on curve and transform it on the same turn. Suddenly a card like Former Champ becomes a serious constructed consideration. Hard to imagine Mutate not being a meta relevant card at some point.
Score: 3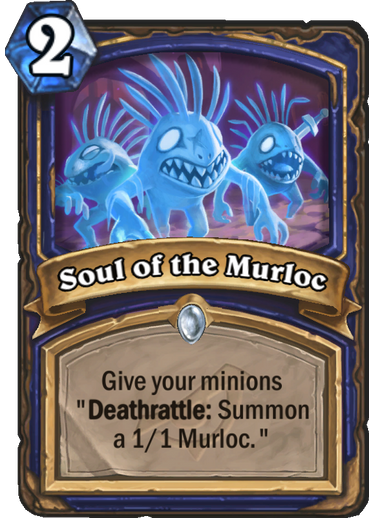 Soul of the Murloc
One of the most powerful cards in the set, Soul of the Murloc is basically a stronger version of Soul of the Forest, since it's half the cost and the most important aspect of both cards is their ability to create a sticky board they can leverage for their finisher. While Druid has Savage Roar, Shaman has Bloodlust. There's also the added upside of the tokens being murlocs, which makes Murloc Warleader and a tribal deck a scary proposition. Soul of the Murloc is the very definition of a meta defining card.
Score: 4
Walking Fountain
Remember Stormwatcher? A 7 mana 4/8 with Windfury is quite a fair statline. Walking Fountain has Lifesteal and Rush (two keywords with obvious synergy with each other) stacked on top of the body for only 1 extra mana. Walking Fountain is simply busted beyond comprehension, since it can kill two minions and heal you for 8 upon its entrance to the board. We think it would still see play at 9 mana and is arguably better than Obsidian Statue. This is the mother of all Zilliax' and will likely be played in every Shaman deck that isn't hyper aggressive. Unity, Precision, Perfection.
Score: 4
Sludge Slurper
On April 9th, Sludge Slurper becomes one of the strongest 1-drops in standard format. It is the best Lackey generator that has been printed and works beautifully with Shaman's current tools. Its overload still allows it to curve out the Lackey on 2 as a follow up, and it can also activate both Likkim and Thunderhead, which are very powerful cards that haven't had the chance to shine quite yet. Just comparing it to Cable Rat, which is still a good card, shows you how good Sludge Slurper is. Have we forgotten to mention it's also a Murloc?
Score: 4
Underbelly Angler
A 2 mana 2/3 murloc with an ability that seems quite absurd. Just generating one murloc off the ability is a very good deal, and it must be removed by the opponent on the turn its played or else. For an early game minion, the threat it imposes exceeds its mana cost by quite a margin. Note that in the late game, Underbelly Angler and a single other murloc can generate an entire board of murlocs since Angler can keeping chaining the murlocs it has generated! This is nuts, and another good reason to believe that murlocs will be important in establishing the aggressive Shaman decks of the future.
Score: 4
Hagatha's Scheme
This AOE spell is quite nice, though we recognize the card's weakness as a topdeck. Two turns are needed to make it a reasonable board clear at 3 damage and keeping it in the mulligan to deal 4 damage on turn 5 is well worth it. Shaman needs AOE after the loss of Volcano, so this certainly ticks the box. In our opinion, this is the strongest Scheme that was printed, and we're most confident about its chances of making it into the meta. The fact it scales so hard into the late game makes it very enticing. Control Shaman decks should always want this card.
Score: 3
Witch's Brew
This card is basically Forbidden Healing, which can be quite strong in the right deck. This card's biggest obstacle to competitive viability might be redundancy. Walking Fountain carries a stronger punch and is much more versatile in its use, so Shaman may find no need to run Witch's Brew. Situationally strong and might see play if there's an on-demand need for healing.
Score: 2
Muckmorpher
So just like that, Shaman gets a 5-mana Shadow Essence, which is pretty much better in every way. Remember Walking Fountain? Al'akir? Zilliax? Malygos? This card is potentially meta warping and will likely spawn a new archetype of Control Shaman built around both Muckmorpher and Eureka. Shaman may not have the resurrect spells that Priest has, but it does have Ancestral Spirit as well as Big Bad Voodoo, so we would keep an eye on those two enablers.
Score: 4
Scargil
This card has a potentially very powerful effect in a dedicated murloc deck. Even if you cheat out a single murloc such as Murloc Warleader, Coldlight Seer or Murloc Tastyfin, it's well worth it, and it has combo potential later in the game with Underbelly Angler. The key is that we're playing a dedicated murloc deck, and not just a small package of murlocs, so that we're more likely to find use for Scargil. Whether going full murlocs or just running a package of the fish men is stronger, will likely determine how strong Scargil is.
Score: 3
Swampqueen Hagatha
So just like that, Shaman gets a 7-mana Kazakus, which is obviously slower but has no deck building restriction, while Shudderwock is also still a card. Any Shaman deck that doesn't aim to kill opponents early, and doesn't run Muckmorpher, will likely play this card. With both Hagatha's, Shudderwock and Walking Fountain, Midrange Shaman's late game looks very strong.
Score: 3
---
Final Thoughts
Year of the Raven Sets Rank: 4th
Rise of Shadows Set Rank: 1st
Overall Power Ranking: 2nd
Shaman has received a completely busted set in Rise of Shadows, far stronger than we've ever expected and one which, in our opinion, enables powerful decks through the entire meta spectrum. This is an exciting time for the Shaman class, as we anticipate that its days of irrelevance will come to an end on April 9th. Thrall will enter a new period in Hearthstone's history, a period in which his portrait becomes a scary sight on ladder once again. Get ready.