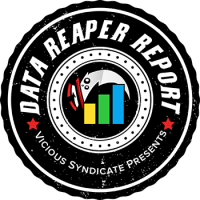 Welcome to the 97th edition of the Data Reaper Report!
Our Data Reaper Project, including the Data Reaper Live has 5,400 active contributors and we thank them wholeheartedly. Contributing to the Data Reaper project through either Track-o-Bot or Hearthstone Deck Tracker (recommended) allows us to perform our analyses and to issue the weekly reports. Without the community's contribution, there would be no project. Contributing data is very easy and takes a few simple steps, after which no other action is required. If you enjoy our content, and would like to make sure it remains consistent and free – Sign Up!
---
Quick Links
Class/Archetype Distribution | Class Frequency | Matchup Winrates | vS Power Rankings | vS Meta Score | Class Analysis & Decklists | Meta Breaker of the Week | How to Contribute | Credits
---

June's Data Contributor Raffle has launched
E-Mails to 55 Data Contributors, who have won the June raffle, have been sent yesterday. The E-Mail details instructions on how to claim the reward: a 3-month subscription to vS Gold. If you are a data contributor, make sure to check your registered E-Mail address (including your spam folder, if it ended up there) and respond within 7 days to the message.
In case you're out of the loop, we launched an initiative last month that rewards vS Gold subscriptions to data contributors through a monthly raffle. Details on how to be eligible to the raffle are posted here.
Number of Games
| | |
| --- | --- |
| Overall | 70,000 |
| Legend | 10,000 |
| Ranks 1-4 | 22,000 |
| Ranks 5-9 | 28,000 |
| Ranks 10-14 | 6,000 |
Class/Archetype Distribution
[TABS_PRO id=14454]
Class Frequency
[TABS_PRO id=14455]
Class Frequency Discussion
Druid continued its rise in play for another week with all of its primary archetypes exhibiting growth. The fastest growing archetype is Malygos Druid, which has established a pretty noticeable presence at higher levels of play after its reported success last week.
Rogue takes a step back with Miracle Rogue's decline, which is quite significant at legend. The archetype has recently displayed a relatively lukewarm performance that didn't justify its high play rate, so this drop in play was very much expected. Odd Rogue looks largely unaffected by recent meta trends.
After its recent decline, Warlock is showing signs of recovery, with Even Warlock growing at legend while Cube Warlock retains its small representation. Zoo Warlock, on the other hand, has exploded in popularity just as the weekly database, from which these charts are generated, closed. Its rise in play over the past 48 hours is unprecedented, so it's a very unique situation that we will discuss later.
There's a small uptick in Shamans, but it's nothing to write home about. The class has generally been very stable over the past few weeks, both in the prevalence of its two primary archetypes as well as each archetype's card usage. Shudderwock and Even Shaman have been figured out early and remained the same decks since.
Odd Paladin continues to grow in popularity, following its recent success at all levels of play. It is the most popular deck at most ranks, and the most influential strategy in the last couple of weeks. Its impact on the meta has definitely been significant.
Hunter is rapidly falling off in play, and its decline is particularly steep from rank 4 onwards. All Hunter archetypes are suffering from this downswing, with Kathrena Hunter being the deck that crashed the most.
Mage is displaying stability similar to that of Shaman. Its two primary archetypes have been refined early and haven't changed much since. The relatively new Murloc Mage hasn't gained much traction either, and settled down to a small fraction of the meta.
Priest and Warrior continue to decline ever so slightly. Priest is a fractured mess of strategies while Warrior has one stable archetype in Taunt Warrior. We can observe that players are abandoning non-Taunt Warrior decks as they haven't shown any promise over the last few weeks.

[TABS_PRO id=14456]


[TABS_PRO id=14457]
vS Meta Score
[TABS_PRO id=14458]
vS Power Rankings Discussion
Hmm… Well played. Druid is looking like the best class in the game, with multiple archetypes sporting Tier 1 win rates. At legend, Tier 1 consists of almost exclusively Druid decks, with only Odd Paladin serving as the sole non-Druid representation. However, there's a pretty big discrepancy between the true power levels and the perception of power levels when it comes to the Druid class in the current meta. Over the last couple of weeks, the meta has shifted pretty rapidly in one direction, yet the player base has not caught up with the times.
The discrepancy comes from Taunt Druid. It is the most popular Druid deck in the game, and it looked extremely powerful a few weeks ago, but it has been declining in its win rate as a result of the meta's inclination to target it. From Hex, Polymorph, Skulking Geist to The Black Knight, many archetypes in the current meta are geared to perform optimally against Taunt Druid. In addition to tech hate, Odd Paladin's rise has increased the value of running Spreading Plague over Witching Hour. In the current meta, Witching Hour is actually a fairly weak card that doesn't give you an advantage in most matchups. When looking at the best performing Druid decks, they all run Spreading Plague and they all perform well against Odd Paladin.
It is very encouraging to see Paladin's win rate drop in response to its climb in prevalence. The deck is now very unlikely to spin out of control, especially when we consider that Spreading Plague should become more popular over time (though high legend Paladin players have an answer prepared for Plague). The current meta has proven itself to be very effective at balancing itself out, and no deck seems to be able to stay oppressive for long. The post-patch Witchwood meta is one of the most balanced and diverse meta's we've ever seen in Hearthstone, and it's not nearly as "solved" as it's perceived.
Big Druid is essentially the new incarnation of Taunt Druid, adjusting itself to perform better in the shifting meta. The removal of the Witching Hour/Cube combo and the focus on better mana acceleration and defensive tools through Plague/DK, helps the deck perform better against Shamans, Rogues, and Paladins. The primary advantage of Taunt Druid is its performance in Druid mirrors and against Warlocks, but that doesn't make up for its more glaring deficiencies against the rest of the field.
Malygos Druid looks like the real deal after continuing its climb in win rate for another week, and now placing #1 at legend ranks. The archetype has very few weaknesses overall, and its current low play rate means there is very little incentive to run weapon tech in order to punish it. Even with weapon tech, Malygos Druid is able to find wins very often without needing to OTK opponents. It is surprisingly consistent and resilient and it's also one of the most complicated decks in the game. Not a deck for beginners, but one that truly rewards mastery of play.
Warlock is still powerful, but it's no longer the ticking time bomb we were concerned with. Valeera has kept watch on Gul'dan to make sure both Even and Cube Warlock do not get out of control.
However, Gul'dan may have found another way to dominate, one that bypasses Valeera's watch. Over the last month, we've often mentioned that Zoo Warlock was actually a fairly strong deck that was underplayed, neglected and ignored by the player base. Now, these statements appear to be validated, as the archetype has finally seen significant developments over the past week. While Standard Zoo builds have already displayed a good win rate, Zoo's win rate spiked very hard in early July as a result of the emergence of a new Healing Zoo variant. Yes, Healing Zoo. At the moment, it's projected to be the best Warlock deck and one of the best decks in the game. A deck that plays Voodoo Doctor could land in Tier 1, circumstances willing. This is not a drill.
In other, less dramatic news:
Miracle Rogue's fall in play at legend has led to a rise in its win rate. This is a typical Miracle Rogue behavior. When it's too popular, it's easily focused down. When it's disrespected, it shines. We recommend playing the deck when it's out of fashion, rather than when everyone thinks it's good.
Big-Spell Mage continues to impress. It does well against most of the popular meta decks and only truly suffers at the hands of Shudderwock. Jaina would kill to have a Dirty Rat in standard right now.
Togwaggle is yet another Druid archetype that sees a little bit of play. We don't think it will gain traction mostly because of redundancy: it's an inferior choice of a similar playstyle to Malygos Druid.
Hunter's crash in popularity lines up with a fall in its win rate. Kathrena Hunter is getting smacked down by Odd Paladins, while Spell Hunter really suffers against the Druid class.
Control Priest has risen in its win rate after improving its performance against the Druid class. The key is Skulking Geist, which makes a big difference in an otherwise poor matchup against Taunt Druid (estimate is over 5%).
Class Analysis & Decklists
Druid | Hunter | Mage | Paladin | Priest | Rogue | Shaman | Warlock | Warrior
---

The shift in the Druid class continues, with Taunt Druid losing steam at higher levels of play while Malygos Druid and Big Druid are gaining traction. The rise of Odd Paladin is increasing the value of Spreading Plague, while the grindy win condition through Witching Hour and Carnivorous becomes less appealing every day.
Orange hit #4 legend with one change from Monsanto's Malygos Druid build, which is cutting a Wrath for an Innervate. Wrath is stronger against aggressive decks, while Innervate helps you accelerate your late game plan. It enables Malygos/Death Coil, for example.
Zridex piloted Feno's Big Druid build to an early #1 legend in July. This build brings back Bright-Eyed Scouts and also runs Tyrantus as a late-game threat. Scouts emphasize mana acceleration and blow out potential, which is what you're looking to do with Big Druid. The deck needs to ramp as quickly as possible since its late-game longevity is actually fairly tame.

Generally, all Rogue archetypes do not appreciate an increase in Paladins since they are vulnerable to board flooding strategies. Miracle Rogue is heavily reliant on drawing Fan of Knives while Odd Rogue finds itself pushed away from the board very easily.
Miracle Rogue hasn't changed much from last week, though we think Sprint is performing better than Auctioneer at the moment due to the meta speeding up and the card being less situational. Rogue has had a lot of success at the HCT Summer Championships due to the absence of aggressive lineups. It was often banned and was part of 3 of the top 4 lineups, including the winner, Bunnyhoppor. Variations continue to focus mostly on replacing Shivs with Questing Adventurer and Shadowstep, though we don't like this adjustment in the current ladder climate since it worsens the deck's poor matchups. One interesting adjustment that was recently experimented with by Navi is running Mossy Horror, which is a tech card against both Paladins and Druids running Spreading Plague. TheCantelope hit #1 legend running Mossy Horror in a Sprint list, replacing one SI:7 Agent.

The season reset is upon us, as well as the final full month of the Witchwood meta, and yet with that we suddenly have a lot to talk about.
Almost overnight, Zoo Warlock has returned with a vengeance. While word of its sudden emergence has not yet trickled down to all levels of play, there are quite a few players who have had significant success with Zoo early this month, some of them hitting #1 legend just over the past few days.
First, we start with BuckNastyZB who hit #1 legend with a fairly standard build that includes Void Ripper and Sea Giants, the latter is a pretty strong Odd Paladin tech that is generally good in all aggressive mirrors.
Second, we discuss the most off-the-wall, genius build that might elevate Zoo Warlock into becoming a top meta contender. Taka hit #1 legend this month with a Healing Zoo Warlock deck that runs Happy Ghoul alongside Lightwarden and various heal synergy cards in Fungal Enchanter, Lifedrinker, and Voodoo Doctor. This particular list is responsible for a win rate spike that made us drop our jaws to the floor. Incredibly, the build omits Doomguards and has a few card choices that can likely be improved on (such as Tar Creeper). Ginky brought back Doomguards to hit #1 legend with Healing Zoo as well. The bottom line is this: you better watch out for this deck because it's way, way better than it looks.
Meanwhile, Even Warlock is still quite powerful and popular. Outside of Mages, Rogues, and Druids with Witching Hour, the deck is quite well positioned in the current meta and is highly recommended if you're interested in a stress-free ladder climb.
Cube Warlock remains excellent if you know what you're doing with it, since it's a much more stressful deck to pilot. Twenty nine card choices are absolutely optimal while the 30th card, Rotten Applebaum, can be pretty much any other tech card you can think of.

Shaman is the 4th most popular class at legend, and both of its archetypes have made appearances in HCT Summer Championship lineups.
Shudderwock Shaman's standard list has been more or less set in stone these past few weeks. One new tech that has begun to appear is The Black Knight. With The Lich King and Sleepy Dragon being fairly popular meta cards, TBK provides a pretty big swing turn that also synergizes with Shudderwock. If you're interested in adding TBK, we recommend cutting either Earth Shock or Gluttonous Ooze. We've also noticed that some players are shifting back from Hemet into Sandbinder, but we don't like this direction. Hemet is a much stronger card.
Even Shaman is a quiet little brother. Without much fanfare, it is one of the stronger decks in the current meta. The main variation in the standard build is a debate between Fire Plume Phoenix or Argent Commander. Phoenix improves Elemental consistency (Earthen Might & Kalimos), while the Argent Commanders improve Corpsetaker consistency.

Paladin is back on top, sporting one and only one archetype in Odd Paladin, which is one of the best performing and most popular decks in the game.
Odd Paladin may have finally been solved, with the newest Void Ripper iterations taking over at higher levels of play. Void Ripper is an incredibly strong tech card against both Druids and Warlocks, swinging unwinnable scenarios back in your favor. It is an answer to two of the best tools against Paladin in the current meta, Doomsayer and Spreading Plague, and it also has other applications which ensure that it's not often a dead card in your hand.
Raid Leader is preferred over Stonehill Defender because of the immediate damage it offers, though one unexplored avenue involves bringing back Stonehill Defender and cutting Divine Favor.  Both cards serve similar roles, but Stonehill is strongest in faster matchups while still providing gas against control (and a chance to land Tarim). We definitely do not recommend running both Stonehill Defenders and Divine Favors.

With Hunter win rates constantly hovering around the average, only a handful of players used the deck to achieve a high legend finish in June. The HCT Summer Championship showed similarly middling results for Hunter, where two of the four players who brought Kathrena Hunter to the event managed to make it to the top 8, with no Hunter players at all in the top 4. The rising amount of Odd Paladins has severely hurt Katharena Hunters, while the increase in Druids has a similar effect on Spell Hunters.
Midrange Hunters this week should strongly consider reverting back to the secret package to help deal with players rushing to legend at the start of the season with aggressive decks. For the same reason, Spell Hunters should also consider replacing a Freezing Trap for a Grievous Bite this week.

Mage retains its small yet impactful spot in the meta. Big-Spell Mage is the class' strongest deck due to its ability to perform well against Druids, Warlocks, and Rogues. We think the current standard build for the archetype is already a successful formula, though with the meta slightly speeding up, it might be better to run The Lich King over Alexstrasza since it's becoming more difficult to get value out of the dragon queen lately.
Aggressive Mage decks will likely always be around as long as Aluneth stays in the format. The debate between vanilla Aluneth Mage and the tribal Murloc Mage doesn't have a clear answer: it all depends on specific matchups. Murloc Mage focuses on building a strong board and snowballing it, pushing damage through minion synergy, so it performs better against Druids and Shamans since they have plenty of healing/armor gain to punish "face plans". Aluneth Mage performs better against Warlocks and Rogues since these classes are more susceptible to direct damage and their removal kit can disrupt board development quite effectively.

While not the least played class in the game, Priest sure is the least distinguished, with the class struggling to find a consistent identity. At least, Warrior knows what it wants to do in the current meta and has a very defined role. Priest is trying to make anything and everything work right now while not really making a mark with any strategy. Much like in the past, Priest's issue is a narrow set of strengths. All of its archetypes can be very good at 1 or 2 things, but struggle to perform consistently against a very diverse meta filled with different challenges.
The class is definitely viable and isn't as weak as it was during the dark days of Whispers and Kharazhan, but for now, it's a techy niche pick on ladder and in tournaments. Over the past week, we've even seen players run an aggressive Murloc Priest. It was a valiant attempt, but one that doesn't work.

Warrior faces yet another week of falling popularity, albeit this time by a very small amount. The good news for (Taunt) Warrior is the recent rise of Odd Paladins while heavy late game decks such as Kathrena Hunter are dropping off. These recent shifts are quite favorable for the class, and will likely keep it competitive going forward. This meta may still have some twists and turns, but Warrior's status is unlikely to change much further.
While things are changing around Warrior, the class itself has not. Taunt Warrior remains the only seriously viable deck, and the same standard list is still the way to go. Multiple players have reached high legend ranks towards the end of the month with Taunt Warrior by taking advantage of Odd Paladin's dominance. If you're running into many Paladins as well as Token Druids countering Paladins, Taunt Warrior becomes incredibly strong.

Druid is good, but not the Druid that most people play on ladder. Get with the times and put Spreading Plague in your deck, alright?
If you learn to play it well, Malygos Druid is currently the best deck in the game. It has a win condition that is criticized for being inconsistent, but the deck finds wins as long as the player understands the path to victory in every game. The difficulty in playing the deck comes from the path to victory varying from game to game, even in the same matchup.
If you loved playing Taunt Druid, Big Druid is basically Taunt Druid that is better equipped for the current meta. It is not as weak to transform effects, it pressures faster and it has stronger defensive tools to deal with Paladins and Rogues.
Token Druid might be the most reliable ladder climber in the current meta, especially if you don't meet an overbearing amount of Warlocks. The deck is very effective at beating aggressive strategies but requires smart setups in order to beat slower decks.
And finally, did someone call for The Doctor? The Healing Zoo variant has meta breaking potential based on our (very) early observations, and we will only know for sure how good it can be once its play rate substantially increases. This deck has rapidly grown in prevalence just in the past 48 hours, so keep an eye out for this one.
---
Our Data Reaper Project, including the Data Reaper Live has 5,400 active contributors. Without them, this project would not be possible, so we'd like to thank all of our contributors for their help.

Preparing our weekly article requires a significant amount of time and effort from many individuals. We would like to wholeheartedly thank our current Patreons, whose generous donations help us fund computing and server costs.

vS Gold is a new membership plan aimed to support our efforts towards improving our content and data analysis while receiving some bonuses and extra features.

Tier 3+ Patrons
Special thanks to Leo G, Chungfr, Aaron B, Jed M, Drew M, Alan J, Eric L, Jeffee83, Zolstar, Lim E, Sean H, Steve F, Andrew N, NObdy, Mark S, Alonso P, msKang, Andrew R, Andrew H, Miguel, James Y, and Swift for supporting us for the month of July.

Contributors
Here are all the people that participated in bringing you this edition of the vS Data Reaper Report: