Foxy Fraud
This might be one of the strongest Rogue cards of all time, and we're being completely serious. Foxy Fraud is basically a 0 mana 3/2 that can enable any combo card at any stage in the game, significantly lessening the class' dependence on the coin and Backstab. Its early game tempo implications are just massive. If you're running any number of combo cards in your Rogue deck, you want to run Fraud. Just a completely ridiculous little furry.
Score: 4
Sweet Tooth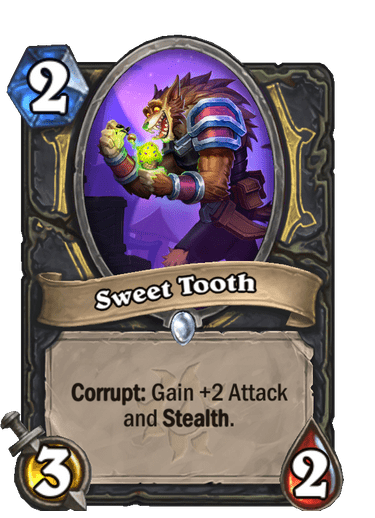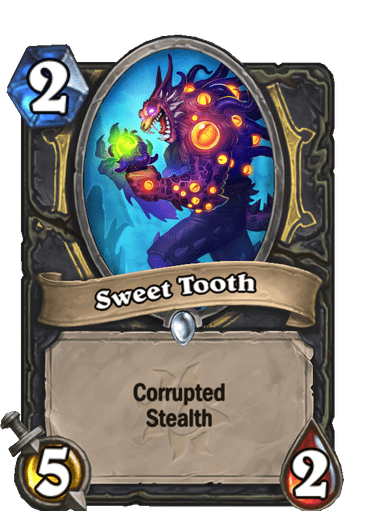 The only deck we'd want to play Sweet Tooth in is an aggressive Stealth Rogue, but Sneaky Delinquent is probably still the better 2-drop by some margin since it's far stronger on turn 2, pushes more damage, and isn't as conditional. We think Sweet Tooth is just outclassed by a neutral, so we're giving it little chance of seeing play.
Score: 1
Swindle
This is another card that might be an automatic inclusion in every Rogue deck. It's funny but the class that's supposed to be strong at card draw has most of its draw mechanics tied into specific synergies. Swindle is just an-all around draw engine that can fit many different decks. The fact it is guaranteed to draw both a minion and a spell when it's activated makes it more likely that you have a reasonable follow-up play, whether it's reactive or proactive. Just good.
Score: 4
Prize Plunderer
This card would be a 4 if it could deal face damage, making it an unreal finisher in combination with Shadowsteps and lackeys. Alas, it only hits minions, which is a limited payoff that we don't think is worth investing our resources over other cards. In the early game, Plunderer is just far too clunky to make an impact and is hardly much better than an Elven Archer most of the time.
Score: 1
Shadow Clone
This is an underwhelming secret when compared to Ambush. It doesn't disrupt the opponent's board development, doesn't protect us, and can be relatively easily played around. When faced with the choice, we would opt for Ambush 95% of the time as it's usually better against the very decks Shadow Clone is supposed to shine against.
Score: 1
Ticket Master
This is the new Fal'dorei Strider. The body is even better for the cheaper cost, but the spawns are weaker. The ability is also packaged into a deathrattle, so it can't be abused with Shadowstep and is slower to get off the ground. Still, Strider was an insanely good card, and we expect Ticket Master to see plenty of play, regardless of whether we decide Stowaway is worth it.
Score: 3
Cloak of Shadows
Are we really giving Rogue Time Out? We realize that this is weaker than Time Out, but it really doesn't freaking matter! What matters is that Cloak of Shadows provides Rogue with a free turn in which it can ignore the board and set up a combo, or set up lethal, without much counterplay from the opponent. That is quite terrifying, and we can see multiple archetypes (aggressive or defensive) abusing this card well. Dangerous.
Score: 3
Malevolent Strike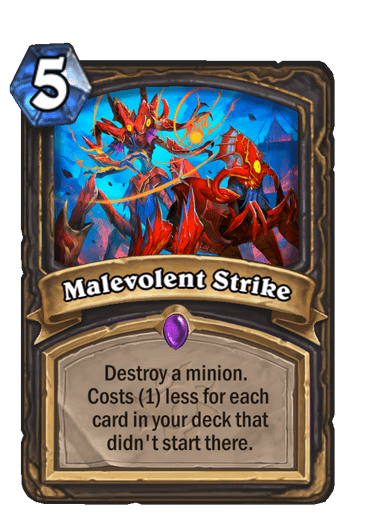 This card seems like a good removal option for the class, but it's already quite blessed with strong removal options such as Sap, Coerce, Blackjack Stunner and Flik Skyshiv. Even if we're playing Ticket Master or C'Thun in our deck, is a 2 mana Malevolent Strike that much better than these options?
We think this card probably fits a Rogue deck that is heavier on the shuffling, where it will often cost 0 mana. But shuffling Rogue decks that run Togwaggle's Scheme haven't been around lately, or pretty much at all. Skeptical.
Score: 1
Tenwu of the Red Smoke
This is one hell of a Youthful Brewmaster. For high-cost minions, it is far stronger than Shadowstep, which makes us immediately eye an archetype such as Galakrond Rogue as one that could benefit from the inclusion of this card. The effect is powerful enough that any deck that runs Shadowstep will look at Tenwu as the 3rd copy, and we think it's versatile enough to see plenty of play in a variety of decks in the future. Nutty.
Score: 4
Grand Empress Shek'zara
While this card seems to be supporting a "shuffling" Rogue archetype, it might be good enough for faster decks to utilize since drawing 2 cards on top of a 5/7 body for 6 mana is decent. The main issue of the card is that it's slow and expensive, and Rogue tends to avoid heavy minions that can't swing the board on the turn they're played. Reminds us of Tak, albeit stronger.
Score: 2
Final Thoughts
Darkmoon Faire Set Rank: 2nd
Overall Power Ranking: 4th
Long time Rogue players will surely love the upcoming set for the class, which will likely ensure a continuation of Valeera's success with a multitude of strategies. There is something for everyone here.
Foxy Fraud and Swindle might be two of the all-time strongest Rogue cards. We can't understate how impactful they will likely become. Fraud is a 0 mana 3/2 that instantly makes Rogue dramatically better on the play, while Swindle provides the class with an unconditional draw engine that is superior to the legendary Elven Minstrel.
With the addition of these two busted cards, Inconspicuous Rider and potentially Ticket Master, Secret Miracle Rogue is looking like a delicious prospect.
But it doesn't end there. The late game powerhouse of Galakrond Rogue has enjoyed great success at the end of the Scholomance Academy meta, and it now faces the possibility of utilizing C'Thun. While we're not sure whether C'Thun is necessary, Galakrond Rogue has all the tools required to make the Old God work. The card we're certain will give the archetype a boost is Tenwu, which seems like a fantastic fit next to the deck's expensive battlecry minions.
Finally, we have Aggro Rogue, which didn't get too much support in this expansion, but one card it could end up abusing is Cloak of Shadows. While some players associate this card as a survivability tool for some wacky combo deck, Aggro Rogue can just use it to hard push for lethal and avoid the opponent's blowback. Cloak of Shadows can potentially make Aggro Rogue even more aggressive.
We know it might upset some folks, but it'll be fashionable to be a furry at the Darkmoon Faire.