Kindling Elemental
This is a good enabler for elemental decks, as it both activates their synergies and discounts the next one you play. The stats for a 1-drop are good considering its ability accelerates your mana curve. If we were higher on elementals, we'd be higher on this card.
Score: 2
Classes: Shaman
Far Watch Post
This card can be highly disruptive to your opponent's game plan, since they can't afford to ignore it and the stats are very good for a 2-mana minion. On turn 2, this can be devastating against a deck that doesn't develop the board early, while offering what is essentially a 2/4 taunt against aggressive decks. However, players might be fixating too hard on its best-case scenario, which is when it's played on turn 2. We suspect that this card will scale horribly in the late game, so outside of dedicated Watcher decks, this is more of a tech card than a staple inclusion for late game strategies.
Score: 3
Classes: Watcher/Control decks.
Lushwater Mercenary
Potentially a 2 mana 4/3. Nothing fancy about that, just a good card for murloc decks and should see play if they end up seeing play.
Score: 2
Classes: Shaman
Lushwater Scout
Another decent murloc which turns your minions into potential removal, which is very nice since the murloc tribe tends to fall on its face if it loses the board. Scout helps these decks swing back and give them the opportunity to retake control.
Score: 2
Classes: Shaman
Oasis Thrasher
The good version of River Crocolisk. Thrasher can be an awkward body to trade into and represents quite a bit of damage for a 2-drop. When activated, it's a 3-health Sandtrooper. Might encourage aggressive decks to reintroduce the Bonechewer/Augmerchant package, and it's probably the best 2-mana beast available to Hunter.
Score: 3
Classes: Demon Hunter, Hunter
Peon
This is a weak value generator when compared to Wandmaker. It can generate spells with a very wide range of costs that could be dead in the early game, and its generation is conditional on a value trade. The decks that would consider this card are less likely to control early trades, unlike Oasis Thrasher. Pass.
Score: 1
Talented Arcanist
This is a neutral Imprisoned Phoenix that isn't dormant but works on one spell. This seems very powerful for decks that are reliant on spell-damage synergies, such as Mage and Shaman, but a deck that Arcanist could really thrive in is Lifesteal Demon Hunter. It substantially increases the Demon Hunter's burst potential to levels that are impossible to sustain through, while also providing defensive redundancy for Mo'arg Artificers, making your combo pieces even easier to use early in the game for the sake of survival. Terrific fit.
Score: 3
Classes: Demon Hunter, Mage, Shaman
Toad of the Wilds
Druid is swimming in nature spells, so this Toad should be a consistent 2/4 taunt for 2 mana, which is solid. The relevance of 2-mana taunts in the class could increase due to the introduction of Razormane Battleguard. That card needs to pair up with a protector in the early game to make the most out of its ability.
Score: 2
Classes: Druid
Barrens Trapper
A 3-mana Mechwarper for Deathrattle minions? There is a problem here, which is that deathrattle minions in the format really wouldn't work in the flooding strategy this card encourages, and the 3-mana costs makes it too slow.
Score: 1
Crossroads Gossiper
A mediocre 3-mana body with the upside of turning into a massive threat when a secret is triggered. This could be a dangerous card in secret decks, especially Paladin since its secrets are cheap and Noble Sacrifice is a perfect partner for Gossiper. If the other three classes manage to find viable aggressive decks running secrets, this is an option for them too.
Score: 2
Classes: Hunter, Mage, Paladin, Rogue
Death's Head Cultist
Solid taunt with a good healing effect for the cost. Essentially provides 8 effective life, which is very nice. Classes that don't have strong healing mechanics could be interested in this card, as seen recently in Highlander Mage and its appreciation for Armor Vendor and Khartut Defender. Cultist would fit into a defensive deck of that nature.
Score: 2
Classes: Mage, Warlock
Hog Rancher
This card is too fair to be good in constructed. The artwork on the summoned pig is incredibly cute, so it might be worth playing for that reason.
Score: 1
Ratchet Privateer
We're not sure why we would play this card over Toxicologist. Both perform the same role, but Toxicologist is cheaper, which would make it a more suitable choice for Rogue decks, for example. Unless we want to play both, and we highly doubt we do, Privateer just doesn't fit.
Score: 1
Sunwell Initiate
This could be a sticky minion for aggressive decks, but it's less likely to get the divine shield value since it comes down a turn later than Oasis Thrasher. Also, a 3-drop needs to be on a higher power level to justify being included in these decks, since they demand an immediate impact from their more expensive cards.
Score: 1
Venomous Scorpid
This card is a huge upgrade on Vulpera Scoundrel. The reason why we think Scorpid is so powerful is the combination of generation with the poisonous keyword. A poisonous minion basically never sees play in constructed, and discover effects see play only when they're powerful enough and the class in question is desperate for the value. Here, we have a case of a minion that trades 1-for-1 with anything, can stall board development, but also replaces itself. It's a perfect card for control decks looking to gain a resource advantage over their opponents. A class that isn't blessed with card draw, such as Priest, should be all over Scorpid.
Score: 3
Classes: Mage, Priest, Shaman
Darkspear Berserker
Berserker is probably the best 4-mana deathrattle available to Demon Hunter, and that's not a good sign when we're trying to evaluate the prospects of its deathrattle archetype. A Pit Lord with one extra health isn't a good card. Sure, this card seems great when it's free, but it's not even a sticky deathrattle. Still very prone to removal and can end up killing yourself.
Score: 1
Gruntled Patron
Patron is back!? This Patron is not as powerful as Grim Patron, since one minion cannot produce a copy twice, but the cheaper cost makes it easier to trigger. There are plenty of ways to activate Gruntled Patron, especially in the original Patron class, Warrior. It is also likely the best resurrect target for Saurfang alongside Whirlwind Combatant. We're into this.
Score: 3
Classes: Warrior
Injured Marauder
Oaken Summons keeps getting better in Wild, but we don't see a role for this card in Standard, especially when Priests are no longer so eager to resurrect their minions.
Score: 1
Gold Road Grunt
We had to pause for a moment before giving this a score of 1, because this is a 5 mana 3/7 and we know how good they can be! But there are probably better neutral defensive options than this card, which isn't a reliable way to gain armor.
Score: 1
Razormane Raider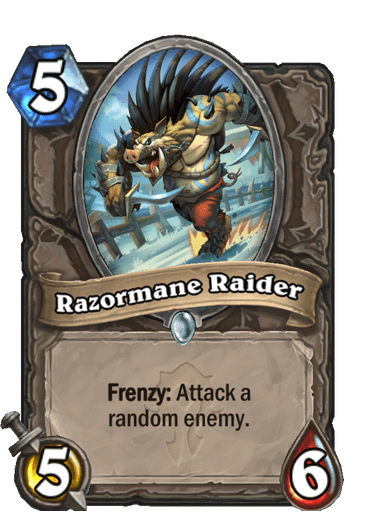 This card is just too slow. Even though the prospect of hitting face for 5 following a value trade is tasty, removal is just too strong in this game to drop a pile of stats and expect to do well, unless that pile of stats is at the level of Jandice Barov.
Score: 1
Hecklefang Hyena
That's a steep drawback for a 2-drop that doesn't even hit face very hard. The secret to Flame Imp's success is that it hits the opponent very hard for a 1-drop. This doesn't.
Score: 1
Horde Operative
A card you play for emotional reasons, not rational ones.
Score: 1
Mor'shan Watch Post
Very good anti-aggro tower which forces decks to remove it before developing further or risk being overwhelmed. Much like Far Watch Post, the ability is powerful enough that it can't be ignored, so the drawback of "can't attack" isn't as relevant since it essentially has taunt. Once again, this card doesn't scale very well into the late game but is very powerful on curve. Control decks or other passive decks wanting to answer aggressive decks could use this.
Score: 3
Classes: Watcher/Control decks
Burning Blade Acolyte
The primary target for Blackthorn, but a card that doesn't have an immediate impact on the board. Opponents can ignore the 1/1, which makes the sizeable taunt only relevant two turns after Blackthorn is played. That sounds painfully slow to us, in addition to absolutely hating the thought of naturally drawing it from our deck and having it clog our hand so we can't play an outcast Vengeful Spirit or a Skull of Gul'dan. We could be wrong about this, but the concept just seems extremely clunky and unappealing.
Score: 1
Taurajo Brave
This is a slow card that we wouldn't even entertain running in a Suarfang deck since it requires us to spend 6-mana first to play it. Pretty useless if we've fallen behind on board to multiple minions, since you're probably taking far too much damage by the time you activate it.
Score: 1
Crossroads Watch Post
This is the weakest watch post since we think it can only fit in a dedicated Watch Post deck, but it could be quite powerful in that deck since it threatens to buff your other towers as well as 'normal' minions you develop. This should be highly irritating for slower decks to remove and could potentially spin out of control if they ignore it since it also buffs itself! A fireball targeting this minion would leave it at 1 health, since the text reads "whenever". Bit of a sleeper card for Watcher decks.
Score: 2
Classes: Watcher decks
Southsea Scoundrel
We're pretty sure we don't want to give our opponent a card from their deck. They can use it better than we can because it's a card from their deck!
Score: 1
Spirit Healer
Too vanilla. Priest and Paladin can leverage their spells to do more powerful things.
Score: 1
Barrens Blacksmith
This requires too much support to activate, and token decks looking for a mid-game buff should have it in their own class set, or they likely wouldn't exist. We do like the fact this option is available for those too unfortunate to have board buffs, but we don't think it gets them over the top.
Score: 1
Primordial Protector
Perfect card for ramping Druid decks that are eager to find their Survival of the Fittest. This tutors their most powerful card, while also developing significant stats on the board. Could also be interesting in other classes (Grand Finale?), but likely too slow. We need to be able to ramp into this.
Score: 2
Classes: Druid
Mankrik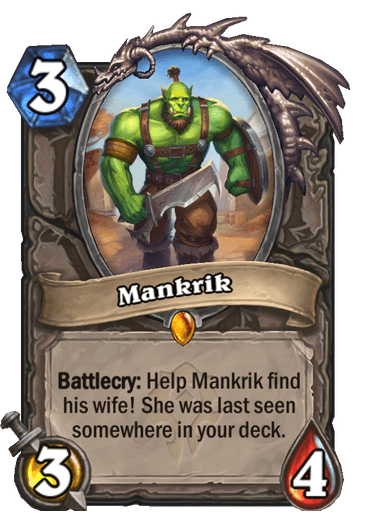 Funny, flavorful card that has potential to see play in Hunter alongside Barak Kodobane shortly after launch. The "Olgra, Mankrik's wife" spell currently doesn't have a mana cost, but this will be hotfixed to 3 mana later. Makes for a potentially powerful interaction since we can specifically find Olgra every time we draw Barak. We're not sure about Mankrik's usage in other classes, even if they carry a lot of draw, since its impact may come too late to make up for playing a 3 mana 3/4.
Score: 3
Classes: Hunter
Blademaster Samuro
Samuro can offer a powerful board clear to decks with buffs. Its combo with Apotheosis is particularly enticing, as it offers both a board clear and a massive health swing, but can Priest justify playing this card strictly for a combo with only one of its cards, especially when it has other 4-drops that offer powerful board clears that come online earlier? In Paladin, Samuro can be utilized with both Hand of A'dal and Libram of Wisdom, though the class may not carry the drawing power necessary to support it. In Warrior, it can be drawn off Stage Dive and require no active buffs, though that method could suffer from some consistency issues. Samuro seems to have a lot of potential even if there are some reservations, so we think it has a good chance of panning out in at least one meta deck.
Score: 3
Classes: Paladin, Priest, Warrior
Kazakus, Golem Shaper
We suspect that this card is going to quickly prove to be one of the most powerful of the set, to the point that decks will drop other strong cards at the 4-mana slot to the surprise of many players. What Kazakus offers is a very powerful win condition that can come down as early as turn 5. The copy effect, for example, is available 50% of the time, meaning we can very often develop 10/10 stats the next turn. The ability to pressure opponents rather than strictly being a reactive or a utility card is what makes it so strong. Any deck, from the most aggressive one to the most defensively minded, will strongly consider it.
Score: 4
Classes: Potentially all of them.
Shadow Hunter Vol'jin
We've already seen quite a bit of Vol'jin, and it's a card that has proven to be a decent soft removal option and a solid tech card against specific decks (Libroom Paladin), but it's not universally and unconditionally powerful to the point it should be main-decked. We suspect it will continue to be a decent flex card that will tend to be overvalued on ladder.
Score: 2
Kargal Battlescar
The big payoff card for Watcher decks, Kargal offers a proactive way to win the game for what will likely be highly defensive decks, and that should be a very valuable tool in their arsenal. If you don't believe dedicated Watcher decks can be strong, you likely won't think much of this card. But if you think they have a strong chance of making it into the meta in at least one class, then Kargal should be part of the competitive format. We think it can be.
Score: 3