Spawnpool Forager
This is a very nice 1-drop, not just for murloc decks (in which this would be an absolute staple due to its stickiness), but any Shaman deck that looks to have a proactive early game. The stats are just very strong, this is only a 1/1 away from a Haunted Creeper, and that was one of the best 2-drops around.
Score: 3
South Coast Chieftain
Good 2-drop that synergizes very well with Forager and helps Murloc Shaman control the board or even push face damage. We'd be a lot more enthusiastic about these murloc cards if we felt that the deck was going to be well positioned in Forged in the Barrens, but for reasons we will specify later, we don't think that is the case. So, a strong card in a (likely) weak deck gets a more modest score here.
Score: 2
Arid Stormer
We think Murloc Shaman is flawed, but Elemental Shaman looks worse. The elemental mechanic has been historically difficult to get value of, and when you consider that this tribe is seriously lacking in strong cards, any minion that reads "if you played an Elemental last turn" is legitimately questionable. Arid Stormer is clearly fantastic when it activates, but the supporting shell around it has no way to close a game out.
Score: 1
Tinyfin's Caravan
Murloc Shaman is desperate for card draw, and the moment we saw this card, we knew that the archetype would likely face an uphill battle. This is not the kind of reload that the deck needs, considering it's far worse than Voracious Reader. If Murloc Shaman fails to make an impact, you can point to this caravan as the culprit.
Score: 1
Nofin Can Stop Us
This is a great buff for murloc decks, offering the tribe a far stronger finisher than Bloodlust that can also snowball the game early. The problem is what happens when this deck faces removal and can't stick a board? That wouldn't be this card's fault, but it would be a reason the card will not see as much play as it could.
Score: 2
Earth Revenant
Strong stats for a 4-mana taunt alongside an Arcane Explosion effect. Very solid standalone card that could see play regardless of its tribal tag. Similar to Reckless Apprentice, with a lower ceiling on its impact.
Score: 2
Chain Lightning
In the early game, this is Cleave with a more controlled effect, which can already be serviceable removal for early game minions. On turn 5, it scales into 3-damage, which is quite good. Can also be buffed further with spell-damage, which Shaman is likely to utilize. Worthwhile consideration.
Score: 2
Lilypad Lurker
On paper, this card looks great. A 5 mana 4/5 that casts Hex is great tempo, but again, this card has the dreaded condition that never works as well in practice. We must remember that Lurker needs to be activated a turn before, which means it's harder for us to anticipate an opponent's threat that is worthy of Lurker's attention. You need to run a lot of elementals for this card to be remotely consistent, and that's probably not worth doing.
Score: 1
Firemancer Flurgl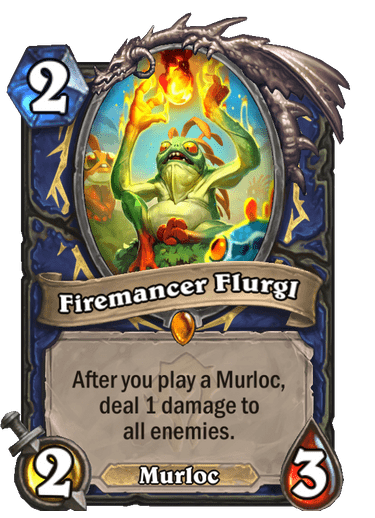 A 2-mana Altruis sounds crazy, but the tribal limitation makes Flurgl a more difficult card to get the absolute best out of. Shaman happens to lose two of the best possible murlocs to chain with Flurgl to rotation, in Underbelly Angler and Toxfin. Flurgl will go as far as Murloc Shaman goes and since we don't think it can be a top tier deck with the tools it has available, we can't give Flurgl the maximum score. Could be a meta defining card down the road, for sure.
Score: 3
Bru'kan
This legendary gives Shaman the best chance of competing at the top of the meta. It is a +3 spell-damage minion with strong stats for a 4-drop, which is well and above the curve. The spell school limitation is not a constraint since every relevant Shaman spell is a nature spell. Bru'kan goes into Shaman decks that play damage-based nature spells, which means it should be strong for aggressive burn-centric decks.
Score: 3
Final Thoughts
Forged in the Barrens Set Rank: 6th
Overall Power Ranking: 9th
Shaman got a reasonable set, but we think it needed more than a reasonable set, and the fact that most of its powerful cards are tied to tribal mechanics frustrates us. Both the murloc and elemental tribes feel incomplete and likely require more cards to get right.
Murloc Shaman looks strong on the surface. It has a powerful new buff. It has a 2-mana Altruis. But then you realize that it's still extremely vulnerable to removal and both removal and rush minions are very powerful these days. So, what the murloc tribe needs to combat removal with is longevity: the ability to find more resources and reload the board with new threats. It does not have that ability, unless you want to fill up your hand with trash through Magicfin… that card still upsets us to this day.
As for Elementals, we think they're further away. They're not explosive and lack lethality, so they should complement a Control Shaman deck, and the introduction of Lilypad Lurker hints at that. But Control Shaman doesn't have a way to proactively win games, and it also lost some of its most powerful life gain options. We struggle to see a constructed deck there.
Where we think Shaman has the greatest chance of success is its Doomhammer wielding "Enhancement" archetype. There is plenty of burst damage, combined with spell damage and strong AOE effects to build a deck that plays in a similar style to Soul Demon Hunter and ends games in an effective fashion. It wouldn't be very different from the deck we've briefly seen at Darkmoon Faire, but Bru'kan should become a fantastic addition to it.
We think Thrall is a bit stuck in tribal hell, and we don't like it when classes are pigeonholed into tribes in order try and build competitive decks. Because if the tribes fall flat, what's left to do? Guess we call uncle Doomhammer.