Fury
This card might be compared unfavorably to Twin Slice, but Twin Slice was insanely strong. That doesn't mean Fury isn't a good card. Any Demon Hunter deck that is interested in off-board damage (and most of them are, such as Aggro or Soul DH) will be happy to run Fury. Its rank 1 form is slightly weak, though serviceable for early game removal, but its rank 2 form is strong and that's going to be when Fury is most often utilized.
Score: 3
Razorboar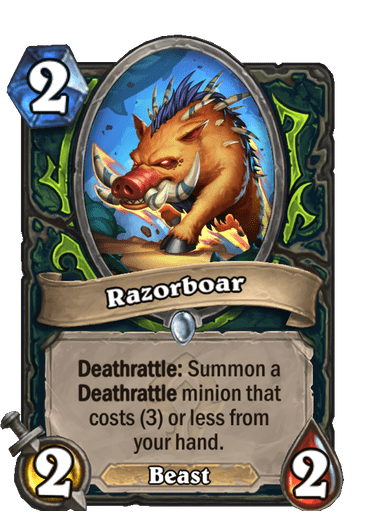 None of the deathrattle Demon Hunter cards look bad when you evaluate them individually. Razorboar seems like a decent card with some mana cheating potential. It's when you build the actual deck and find its glaring flaws that you come to realize that this deck may not pan out to be very successful. The first issue that we have with Deathrattle Demon Hunter is that we need deathrattle minions in hand for them to be cheated out, which is far weaker than cheating them out from the deck. It forces us to run more of them for the sake of consistency, and then we're stuck running Deathrattle minions that are underwhelming since the pool available isn't great. The product is a slow and clunky midrange deck that is a stark contrast to Demon Hunter's normally ruthless efficiency. We're not into that.
Score: 1
Vile Call
This could have been a nice card in another class, such as Druid, but Demon Hunter seems to get these decently-statted lifesteal minions every expansion before passing on them. Perhaps, it's because Demon Hunter's best defense is its offense. If a minion that costs more than 2 mana doesn't have an immediate impact on the board, or offers immediate damage to the opponent's face, then it's just not good enough.
Score: 1
Sigil of Silence
With the loss of Consume Magic, Demon Hunter is given an interesting mass silence effect with a delay. The important thing about Sigil of Silence is that it guarantees you access to the opponent's face next turn, as any taunt they place on their turn is nullified by this effect. This means that a deck that is highly reliant on burst damage through weapons or attack modifiers, can set up lethal by preventing a counterplay option from the opponent. We can see a deck such as Soul Demon Hunter, or one of a similar style, using it effectively, though it is meta-dependent.
Score: 2
Tuskpiercer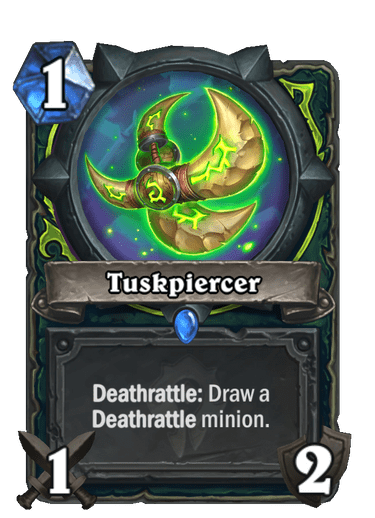 Drawing 1 card for 1 mana is not a bad deal. The problem is that we're drawing deathrattle minions in Demon Hunter, and the quality of these cards is highly questionable. Tuskpiercer is obviously essential for the consistency in which we have these minions in hand for the Deathrattle DH deck, but if this deck doesn't work, then we're not sure this card can see play. There's a possibility that we would want to tutor some specific deathrattle minions in other decks, and that's where it might have the best shot of appearing in constructed, but that's still a struggle with the current pool of minions available. The class is not desperate for draw, and this weapon is not a particularly powerful draw effect. It's slow.
Score: 1
Razorfen Beastmaster
Much like Razorboar, this card looks good on paper. It's also summoned by Razorboar, so you could in theory have a chain of free summonings that start with your 2-drop, though it's obviously very draw-dependent. The other issue is that the quality of 4-drops that can be summoned by this minion isn't great. We're forced to run cards such as Renowned Performer and Darkspear Berserker. That doesn't make us very happy.
Score: 1
Sigil of Flame
This reminds us of Imprisoned Observer. It doesn't have a body attached to it, but it's a mana cheaper, the AOE is stronger, and the effect is only delayed by one turn. A turn 2 Sigil of Flame can be highly disruptive to the opponent since they can't really develop into it. It's not just about the clear, but the stalling effect this has on the game, similar to a Doomsayer bringing initiative back to you when it activates. But Sigil of Flame is better than Doomsayer, since your opponent cannot interact with it or prevent it from going off. For any Demon Hunter deck that's not purely aggressive, this card could be huge. It's an incredible set-up card for Skull of Gul'dan in Lifesteal DH, for example.
Score: 3
Vengeful Spirit
This is strictly a card draw engine for Deathrattle DH, as it's very expensive and requires a higher number of Deathrattle minions to make work. It also encourages a cheaper curve, which ironically clashes with what the archetype is forced to do. 4-mana cards are difficult to play in outcast form consistently unless the deck is very lean, and as we've said earlier, card draw is not something the class needs to work hard for to find.
Score: 1
Kurtrus Ashfallen
Kurtrus is a pseudo-rush minion that's very powerful when in outcast form and resembles Multi-Shot when not in outcast form. Killing two small minions, or a single minion with up to 6 health, while also developing a 3/4 in the process is a very strong tempo play. When not immune, it's a weak Hunter spell, and sometimes it's worse than that if it dies after the first hit. We know that 4-mana outcast cards can be hard to consistency activate, but this isn't completely dead in comparison to Vengeful Spirit or Star Student Selina. We can see it being played.
Score: 2
Update: Turns out this card doesn't hit a single minion twice if it's the only one on the board. That makes the card considerably worse.
Death Speaker Blackthorn
The bitter cherry on top of the sour Deathrattle Demon Hunter cake, Blackthorn looks significantly weaker than a 7-drop in its own class in Soulciologist Malicia. Considering how powerful a 7-drop needs to be to see play in this class taking into consideration the outcast mechanic and Skull of Gul'dan, we're very underwhelmed. Of course, if deathrattle minions were strong enough to win the game instantly upon playing this in a similar fashion to Master Oakheart, we'd have a very different view. They aren't.
Score: 1
Final Thoughts
Forged in the Barrens Set Rank: 9th
Overall Power Ranking: 6th
We think Demon Hunter got one of the weakest sets, mostly because we have little faith in the Deathrattle archetype that is being pushed in this expansion. The issue we see is that the deck is forced to run an expensive curve that clashes with Skull of Gul'dan and its own dedicated draw engine in Vengeful Spirit. The mana cheating mechanic for the early game drops is also very draw reliant. If we don't get a 3-mana deathrattle in our hand when we open with Razorbear, the deck simply fails.
But that doesn't mean Demon Hunter is in trouble. It could afford to get one weaker set since its Year of the Phoenix and Core sets are so good. All its current archetypes still have potential to make their mark in Forged in the Barrens, and they did get some nice cards.
Aggro Demon Hunter will still have a strong early game curve that is likely to be boosted by several new additions, and it's also a deck that could consider Kazakus as its mid-to-late game win condition. We think many aggressive decks will.
Lifesteal Demon Hunter should love Sigil of Flame, and it might consider the neutral Talented Arcanist for stronger redundancy in both its finishing potential as well as its defensive resilience.
Soul Demon Hunter may have lost Twin Slice, but the class has a reasonable replacement in Fury and it might also eye the Sigil cards as complementary pieces to its game plan.
So, regardless of whether Deathrattle Demon Hunter works or not, there will be vengeance.