Desperate Prayer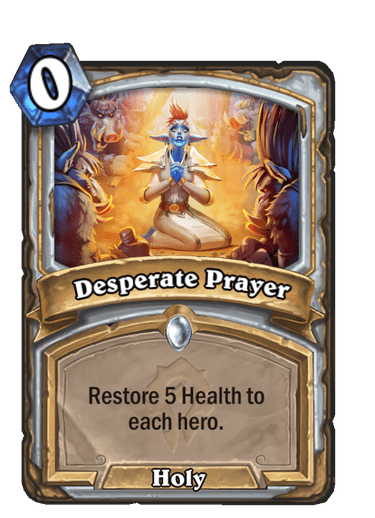 We must be desperate to run this card. As we've said in other card previews before, cards that only heal and do nothing else are usually bad unless their healing potential is massive. This isn't one of them, and its combo with Xyrella doesn't justify it being useless in other applications.
Score: 1
Devouring Plague
A Minefield that heals and only targets enemy minions sounds pretty good, but the extra mana cost is significant. Priest's removal tools are so good already that Plague may fall through the cracks as a decent card that can't find a deck.
Score: 1
Power Word: Fortitude
We're not sure what kind of Priest deck would want a Blessing of Kings-type of buff. We're not too excited about the prospect of an Inner Fire Priest deck that doesn't run Divine Spirit or Inner Fire. Even if we have 5 spells in hand, this buff is only slightly above the curve.
Score: 1
Soothsayer's Caravan
These caravans sure suck. Why would we ever invest 2 mana on a 1/3 body that might give us the equivalent effect of Thoughtsteal if our opponent happened to disconnect from the game for a couple of turns? This is so unbelievably bad.
Score: 1
Void Flayer
This card seems strong in a Control Priest deck, which is an archetype that is abundant in spells. We can see this card firing 5+ missiles regularly, which would make its body and cost well worth it. The fact it only targets enemy minions makes it quite versatile: it can remove one mid-game threat or a few smaller bodies.
Score: 3
Lightshower Elemental
This card reminds us of Hidden Oasis in Quest Druid. Its healing effect is smaller and tied to a deathrattle rather than being immediate, but it has no deck-building restriction and heals your own minions. Quite a good stabilizing tools for Priest decks if they're willing to up their mana curve to 6.
Score: 2
Condemn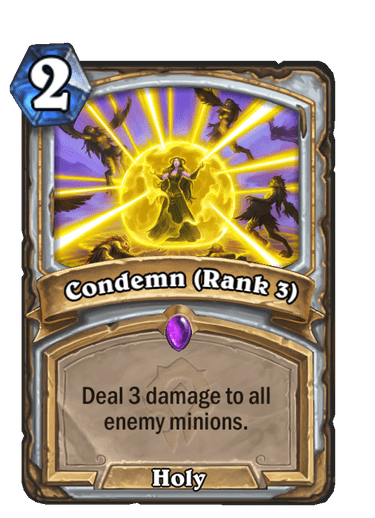 An Arcane Explosion that turns into Consecration on turn 5 is a solid AOE effect. This isn't at the level of Breath of the Infinite but can be competition for Holy Nova if some Control Priest decks need a board clear. The main advantage of Condemn over Nova is that it allows you to develop while clearing the board in the mid-game.
Score: 2
Priest of An'she
We think this card may end up competing for the same role with Lightshower Elemental and end up falling short. It's awkward on curve unless there is very specific synergy for it, and even if we do activate it, a 5 mana 8/8 taunt doesn't seem that great in a Priest deck. Lightshower Elemental provides us with more effective life and isn't conditional. Will there be a Priest deck that runs both and is just about dropping stats on curve? That's a stretch.
Score: 1
Serena Bloodfeather
This is a very weird pseudo-removal card in a class that has the best removal tools in the game. We think Serena is most suitable to target 1-health minions, since she just kills them. When it comes to big threats, she turns them into mid-game threats while developing your own stats to the board. We're not sure that's a good deal, since a simple Shadow Word: Death deals with the threat and prevents us from taking any damage. On smaller bodies, her effect doesn't seem to be impactful enough. We don't think Priest has the space available for her.
Score: 1
Xyrella
Evaluating Xyrella is about whether you think supporting her with healing cards that don't do much else besides healing is worth it. If she's worth that kind of deck building support, she's amazing and can clear massive boards by herself. If she's not, then she's still a strong card in a deck that runs Renew and Wandmaker. We're in the latter camp. Could be a very nice tempo card in the mid-game to clear the board and take initiative, while scaling very well with our hero power in the late game. Desperate Prayer and Flash Heal? Hold up.
Score: 3
Final Thoughts
Forged in the Barrens Set Rank: 8th
Overall Power Ranking: 8th
Priest has many good things going for it entering Barrens. It's had a good year of expansions as well as a revamped core set, which gives the class an absurdly good removal toolkit. Its removal is probably the strongest in the game when considering the new Barren cards it has received. Void Flayer, Xyrella, Samuro and Condemn should make it incredibly hard for opponents to stick a board against Priest.
It also has great value generation and longevity, which helps Priest prolong games in its favor. Some are rotating (Spellkin) but many others stick around, and Priest could add a new one to its control shell (Venomous Scorpid).
Priest's problem comes down to its finishing potential. Zephrys and Dragonqueen Alex served an important role in closing out late game matchups, while Galakrond provided an endless number of threats for Priest to pump out. It still has a lot of spell generation, but when it comes to threat density, the class is lacking.
This means that unless the matchup can end with a well-timed Illucia, Priest will run into issues when needing to proactively win games. The obvious solution here is C'Thun to provide inevitability, but we would have liked the class to have something faster considering that card draw isn't its strongest suit.
Indeed, Anduin could be facing a tough puzzle to solve in Forged in the Barrens. If he can, prepare to be emoted.