Galloping Savior
This is a 1-mana Rat Trap. Having a secret that's likely to stick for multiple turns is beneficial for some of the secret synergy cards that are introduced in this set alongside it. As for its strength against the field, there are many decks that are going to have no choice but to proc it on a consistent basis, especially the card slinging Rogues. If they don't, you can still be rewarded for it.
Score: 3
Knight of Anointment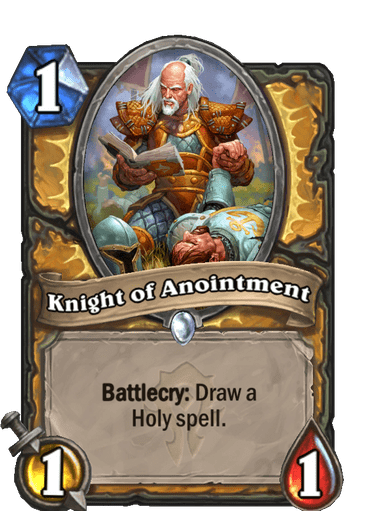 A 1-mana Novice Engineer is extremely powerful, no matter from which angle you look at it. Paladins always run Holy spells, so they're pretty much always going to want to run this card. Add this class' desperation for card draw, and it's a complete no brainer. This card is at the level of a pre-nerf Crimson Sigil Runner.
Score: 4
Invigorating Sermon
A mini-Survival of the Fittest, but a weak one. This card is very expensive at 4-mana, in a class that doesn't really have the card draw to support running a buff that may not have an immediate impact on the board. It's also dependent on running a very minion-dense build, and we're not convinced Paladin has the means to support this playstyle.
Score: 1
Soldier's Caravan
This card is a complete waste of time, even for a dedicated Dude Paladin deck. The only situation where it might not be terrible is as follow up to Righteous Protector, and even then, we have better things to do.
Score: 1
Sword of the Fallen
This weapon is the maddest of scientists, or the most mysterious of challengers. Absolutely crazy value and tempo on a 2-mana weapon, pulling 3 secrets from your deck into play and paramount for enabling all other Secret Paladin synergies introduced in this set. A high mulligan priority, and a high deck-building priority. This is the kind of card that makes you want to run secrets in every Paladin deck.
Score: 4
Northwatch Commander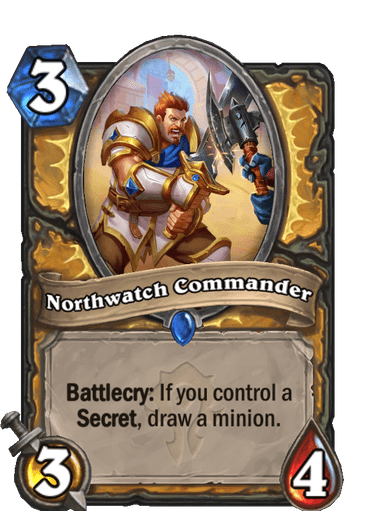 A weaker Greyheart Sage for secrets, this is another card that greatly incentivizes a Secret package in Paladin decks since the class is desperate for draw and this alleviates the problem of running a sizeable package of low value cards. Perfect follow up for Sword of the Fallen.
Score: 3
Conviction
This card represents 6 damage for 1 mana on turn 5, and that's a lot of damage! Aggressive Paladins will be highly interested in utilizing it as a finisher, with its only condition being able to stick a board. The only question is whether Paladin has the longevity to support so many low value cards when its ability to reload isn't great. This card would be absolutely broken in Rogue, for example. For Paladin, it's very good.
Score: 3
Veteran Warmedic
A spell school specific Violet Teacher with pretty good tokens, but which Paladin deck would want this? We're not excited by the prospect of running it in Libram Paladin, since the card will be highly reliant on us finding Liadrin and Libram of Wisdoms, and we're not sure what kind of impact this card could make in the late game when our greatest concern is our ability to finish games. As an anti-aggro card, this might not come online quickly enough to be relevant. Awkward.
Score: 1
Cariel Roame
Cariel is going to be a staple for Libram Paladin decks since all Librams are holy spells and discounting them more consistently is a great boon for the archetype. The question is whether Cariel is an-all around nutty card that every Paladin deck would play, and we're not sure about that. When we look at potentially faster Secret Paladin decks, they are more likely to be limited by their longevity and finishing potential rather than their mana usage. Discounting secrets, for example, isn't that powerful for a deck that can pay no mana for them anyway. We think they may want to do more powerful things at the 4-mana slot.
Score: 3
Cannonmaster Smythe
This card offers a sizeable mid-game spike to Secret Paladin decks and works very well with Sword of the Fallen. If we can consistently hit two secrets with it, this card offers 20 stats for 5 mana, which is very good and makes it one of the best 5-drops in the game alongside Jandice Barov. Three secrets would be absurd, but probably unlikely. Very dependent on the secret package, but very powerful when it works.
Score: 3
Final Thoughts
Forged in the Barrens Set Rank: 3rd
Overall Power Ranking: 4th
Paladin is well positioned heading into Barrens, with strong Year of Phoenix sets, a revitalized Core set and a Barrens set that is headlined by the return of powerful secret synergies to the class.
The secret package that is enabled by Sword of the Fallen is so powerful that we think every Paladin deck could end up utilizing it. It addresses a serious card draw issue for Paladin that is going to be heightened by the loss of Salhet's Pride and Blessing of Wisdom. Yes, Knight of Anointment is fantastic, but it's not enough by itself to carry a late game-oriented strategy such as Libram Paladin.
This is where Sword of the Fallen comes in. It is a strong tempo card that acts as a deck thinner much like Mysterious Challenger. Of course, it also activates Northwatch Commander, which further boosts Paladin's ability to maintain value in its hand. But secrets also serve an important pressuring role, which is magnified by a big mid-game power spike in Cannonmaster Smythe.
Paladin did get important additions that carry late-game implications. Cariel Roame is another libram discount card, while Conviction is a strong finisher for faster Paladin decks.
Regardless of the archetype, Paladin is likely to start with a secret package and go from there. Beyond Libram Paladins, we're looking forward to the potential return of faster decks, with Uther licking his lips at the prospect of 1-mana Leeroys.