Batty Guest
Just a good, solid 1-drop. Stronger than Possessed Villager. Sticky target for Doggie Biscuit and Ramming Mount. Good infuse enabler. Good synergy with K9-0tron. You can pop it and buff the Bat with Castle Kennels and turn it into a Pelican Diver. This card is going to see play in many different Hunter decks.
Score: 3
Frenzied Fangs
Infuse (3) is a much more forgiving condition to have as a card you'd keep in the mulligan. This may not be active on curve, but it should be available to cast shortly after, and it's not too bad to play on 2 in its baseline state since it still develops 4 power for 2 mana. Aggressive Hunter decks should be interested as another type of Naga's Pride.
Score: 2
Stonebound Gargon
This card doesn't seem to make sense in any Hunter archetype. It's too slow for an aggressive Hunter deck, and clashes with cards like Pet Collector in slower Hunter archetypes. It sounds kind of nice to clear boards with it, but then again, we now have Blademaster Samuro with Castle Kennels. We probably just do that.
Score: 1
Castle Kennels
We think this card is being heavily underrated by many players. If you rate Wildseed cards highly, you should be thinking of how to utilize them better. Kennels giving rush to your slower dormant beasts, allowing them to immediately impact the board, is a big deal.
In addition, Kennels alongside Doggie Biscuit is the breakpoint where we seriously think that Blademaster Samuro becomes a good Hunter card. The ability to set up Kennels into a turn 4 Samuro is a big deal.
And even if you ignore all of that, Kennels represents 6 incremental damage for 2 mana. It gives you more swing potential from cards like Mountain Bear and Hydralodon. It's versatile and very unlikely to be dead on your board.
Score: 3
Spirit Poacher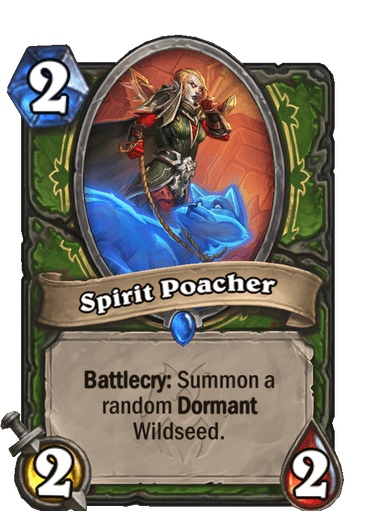 The first of the Wildseed cards that are at the center of the Hunter's set. This card provides pretty good, delayed value, very similarly to the dormant minions of Ashes of Outland, but with an initial body that can still immediately fight for the board. We seem to be paying 1 mana for a 2/2, and another mana for the Wildseed. The Fox Spirit is slightly worse than a Pelican Diver. Bear Spirit is an Imprisoned Homunculus. The Stag Spirit provides the most value with a big body and 8 damage through a weapon but is also slowest to awaken.
Wildseeds are good payoffs if you're willing to wait, which means they might not be the best fit for an aggressive deck. However, if you are looking for mid-late game power then they generally seem strong. Big-Beast Hunter already likes running Renathal, which gives it the health cushion that allows it to wait for delayed payoffs. We think there is good synergy there.
Score: 3
Collateral Damage
This card is way too expensive and situational. Triple Piercing Shot sounds a bit juicy, but these shots are wasted if the opponent doesn't have a significantly large board. This is way too slow for Quest Hunter to effectively utilize, and far too expensive for a Face Hunter deck (Piercing Shot is already one of its worst cards due to its high cost and situational ability). Just seems unplayable.
Score: 1
Stag Charge
Similarly solid to Spirit Poacher, though probably sneaks into Quest Hunter too because it's a reasonably powered spell that deals damage. If we consider 3 damage that can go face to be worth 2 mana, then this is budgeted exactly like Spirit Poacher, with us paying 1 mana for the Wildseed.
Score: 3
Wild Spirits
This spell is the glue that makes Wildseed cards a package, since we're highly incentivized to run all of them to maximize Wild Spirits' unique effect. Wild Spirits summons two Wildseeds, but their dormancy is cut by one turn. This means that Fox Spirit immediately awakens, Bear Spirit pops the next turn, and Stag Spirit isn't as slow as it normally is.
For 3 mana, summoning 2 Wildseeds that awaken a turn earlier is already a pretty good deal and the outcome isn't as varied since we're guaranteed to summon different ones.
But if you've played Poacher on 2, that dormant Wildseed is accelerated. If you've played Ara'lon and follow it up with Wild Spirits, get ready for some chaos. This card makes all other Wildseed cards better.
Score: 3
Ara'lon
This legendary provides insane value for the cost, at the price of being the slowest Wildseed card. At 5 mana, we're looking for the Stag to awaken late in the game. The good news is that the first two Wildseeds are good defensively and help us stall.
When considering the number of stats this card is producing, it's absurd. We're paying 5 mana for 20 stats (some attached to defensive keywords) as well as a 4/2 weapon. Ara'lon can easily trade 4 for 1 against the opponent once it completes the dormancy phase.
There are two issues that make us hesitant to view this as one of the best cards of the set. The first is that it's slow. We're playing a 5 mana 4/5 at first, which isn't great, so we need to play this in a slow deck.
The second problem is a bit more subtle, which is board space! With such a robust Wildseed package, we could struggle to develop an active board with dormant minions taking up so much space. This could become a real hindrance and is something to keep in mind before going crazy over Wildseeds. Will Ara'lon end up blockading Hydralodon, for example?
Score: 3
Huntsman Altimor
We think this card is reverse bait. You look at the infuse (8) requirement and immediately think it's bad because the condition is so hard to pull off, but if we evaluate this card in its first phase of infuse (4), it's already good.
"To My Side!" was a 6-mana spell that summoned two Animal Companions. It had a deck-building restriction that required you to play no minions in your deck! It was written off as a complete joke by everyone. It ended up seeing competitive play because summoning two Animal Companions for 6 mana is strong.
Altimor is a 7 mana 5/4 that casts To My Side after being infused once. That's very good. If Altimor is ever infused twice, it just ends the game. A 7 mana 5/4 that casts Call of the Wild, a card that was nerfed when it was 8 mana, is just back breaking.
And we do think infusing it is not "that" hard if you're playing Wildseeds, Pet Collector, Batty Guest, Hydralodon and Mountain Bear. Underrated, and could end up being the stronger legendary compared to Ara'lon, if we're into hot takes.
Score: 3
Final Thoughts
Murder at Castle Nathria Set Rank: 4th
Overall Power Ranking: 5th
Hunter players have been enjoying the past few weeks, with the class sitting at the top of the meta, performing extremely well with two Renathal decks (Big-Beast and Quest).  The extra health cushion was helpful to execute their game plans well, and both decks are immediate contenders to continue doing well in the next expansion.  There are some questions from the new set, though, and the increasing power level in other classes might pose a challenge.
First, we must start with Wildseeds. Just how good are they? Will the incremental pressure of constantly awakening bodies prove to be too much for opponents to handle? Is it just a perfect fit for Big-Beast Hunter due to the utilization of Renathal? If you can afford investing into dormant minions and live to see the payoff, they're clearly very good.
But there's one thing that slightly bothers us about Wildseeds, and it's the space they take up on the board, especially Ara'lon! Could Beast Hunter find itself awkwardly board-blocked by these dormant minions to the point Hydralodon has no breathing room? Will weapons generated from Stag Spirits get in the way of a Harpoon Gun? These seem like nice problems to have, but they could lead to diminishing returns.
Quest Hunter has its own concern, which is the potential dominance of Druid. It didn't receive much in this set beyond a couple of cards, so it could find itself caught up by other decks rising to power while its game plan is crippled by Celestial Alignment.
Of course, these aren't the only potential decks for Hunter in the new expansion. Face Hunter could come back with Batty Guest, Frenzied Fangs and maybe some complementary neutrals. It could pass over Wildseeds and go as fast as possible to pound Malfurion's face.
Hunter has been a big fish in the small pond of a lower powered format. Its new set is focused on incremental gains, a good fit with its current strategies, but it's about to jump into a bigger pond with bigger power spikes. Can it handle the new waters?